Blake Shelton and Rest of 'The Voice' Coaches Returning for Season Two, Says Cee-Lo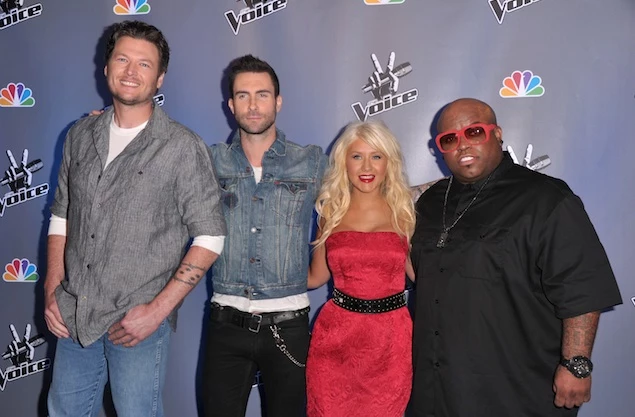 Good news, fans of Blake Shelton and the rest of the coaches on 'The Voice': All four coaches will be back for the singing competition's second season, says Cee-Lo Green.
The four coaches — Shelton, Cee-Lo, Christina Aguilera and Adam Levine — have helped make the show a ratings success. The program's renewal was recently publicized when NBC announced its primetime lineup for the 2011-2012 season. 'The Voice' will return next year as a mid-season show on Mondays from 8-10PM ET.
"We've already been secured for a second season, so prepare to see a lot more of myself, Christina, Blake and Adam, and a host of great artists doing their thing," Cee-Lo tells Billboard. "[All of us returning] would be the safe assumption. I haven't heard anything other than that. I'll be there, that's for sure."
Meanwhile, Cee-Lo responds to criticism levied on 'The Voice' by 'American Idol' judge Randy Jackson, who called the show's chair-spinning move "gimmicky."
"Randy is a personal friend of mine, and he is well within his rights to voice his opinion," remarks Cee-Lo. "I believe that's a little harsh to say that that's 'gimmicky.' I don't believe that to be true … I believe that it was very savvy of the creators of 'The Voice' to give it a different spin. And that spin gives us an opportunity to co-exist [with 'Idol']. I don't believe we're competing; I believe there is a co-existence."
Watch a Preview of the Upcoming Episode of 'The Voice'