Brantley Gilbert Weds Alabama Couple During Mobile's BayFest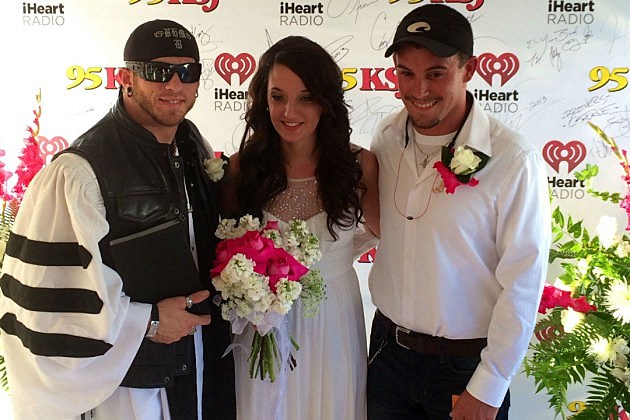 Brantley Gilbert will do anything in the name of love! The star took some precious time during a stop at Mobile, Alabama's BayFest music festival on Oct. 5 to marry one very lucky couple, creating a once-in-a-lifetime memory.
Gilbert is an ordained minister.
The 'Bottoms Up' singer performed during Alabama's largest music festival, that wasn't as important as uniting two young lovebirds in marriage. Brianna Tolbert and Colby Jerkins said "I do" as part of a contest put on by 95KSJ. The station helped make the couple's dreams come true, and Gilbert — donning an authentic black and white robe — sealed the deal. Naturally, the singer added a little of his flair to the ensemble, wearing a leather vest on top.
The bride wore a long white gown, while the groom opted for black slacks and a white button-down. The couple had previously set a wedding date of Oct. 18, and although they still plan on a big wedding, they had marriage certificates and decided to get the star treatment from Gilbert.
The two members of BG Nation were absolutely thrilled by what the country star did for them.
"Colby and I were very anxious and extremely excited about the event," Tolbert tells Taste of Country. "Brantley Gilbert handled everything in a professional way and he was very easygoing. He seems to be a very laid-back kind of guy. We both enjoyed him and we were/are thrilled that we were able to get married by him!"
Gilbert also invited the newlyweds on his bus, which was another dream come true for the Alabama couple. "It was something neither one of us or our families will ever forget …" the bride adds. "Colby and I are so thankful for this experience and we are so glad that Brantley took the time out of his day to perform the ceremony for us."
Go Home With Brantley Gilbert
Subscribe to Taste of Country on