Carrie Underwood Credits Faith for Her Own Success and That of 'Soul Surfer' Bethany Hamilton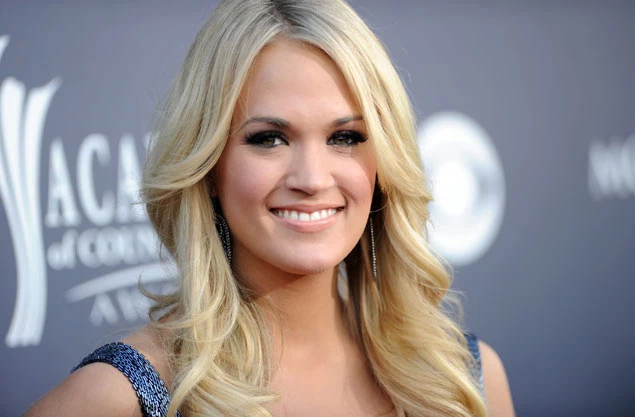 With her big screen debut last weekend in the inspiring movie 'Soul Surfer,' Carrie Underwood knows who to give the credit to for all of her accomplishments. It hasn't been luck or being in the right place at the right time, Underwood credits God as the reason for her success.
The country star has attended church ever since she was a child. She tells FOX411, "I grew up in church and have a wonderful family that always supported that. I grew up going to church camp and reading my Bible and having different faith books and movies in my life."
The blond beauty also wants it to be known that the faith aspect of 'Soul Surfer' is "more than an undertone, and that the reason Bethany got through everything was because of her faith in God." Underwood plays a youth counselor in the movie, sent to encourage 13-year-old Hamilton (played by AnnaSophia Robb) as she tries to make sense of her accident in 2003, when she lost her left arm to a tiger shark. 'Soul Surfer' is the story of her fight to return to competitive-level surfing, and it a testament to God's healing touch as well.
The country star hopes film attendees will realize just how much faith plays a part in the healing process. She says, "It's easy to have faith when things are going great and you're on top of the world — I'm winning, I'm selling, I'm on tour and this is all great! But this story is about having faith when the chips are down and how to deal with that." She adds, "We can all learn something from Bethany's story, even when the little things in our lives don't go so well, we can take a lesson from her and realize how small that problem really is."
Interestingly, for a woman starring in a movie about surfing, Underwood has always had a fear of water. She says, "I enjoy being by the water, but being on the water is scary." The 'Temporary Home' singer says she is a horrible swimmer who had a fear of drowning as a young girl. On set everyone was very helpful and Underwood says, "they were patient and understood I had never been in a movie before and helped me through it."
Just when you think Underwood lives life all dolled up, all the time, she does not. Underwood says, "I live a boring life away from what you see me on camera doing, I'm just the most normal person on the universe. I'm a wife, a mother to my doggies, I'm a maid, I clean the house. I'm pretty boring."