Country Artists Who Went 'Dancing With the Stars' – Worst to Best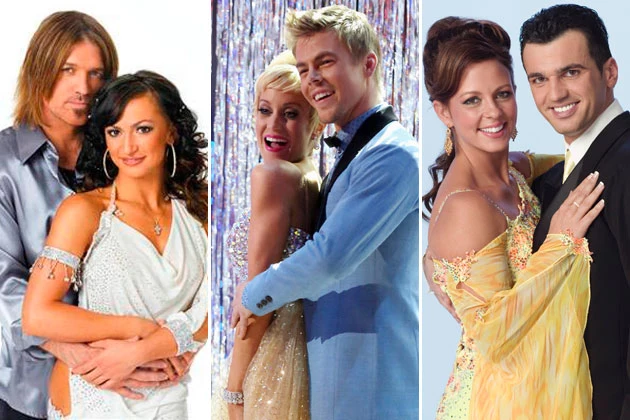 Country music has made an impression on 'Dancing With the Stars,' but it hasn't always been a positive impression. Kellie Pickler became the first country artist to make the finals during Season 16, but she's far from the only singer to show talent on the dance floor. More than one artist, however, has proven that cutting a rug is much more difficult than it looks. Do you recall which superstar was nominated for the Best Worst Dancer Award?
These country singing 'Dancing With the Stars' dancers were ranked on how they placed during their respective seasons and their overall proficiency on the show. Billy Ray Cyrus, Wynonna Judd, Sara Evans, Chuck Wicks and Pickler make up the 'dancing five.' Julianne Hough isn't included on this list (aside from being Wicks' partner), because as a professional dancer she's clearly better than the rest.
ABC
There's no sugarcoating it. B-Y-C was B-A-D during Season 4 of 'Dancing With the Stars.' The 'Achy Breaky Heart' singer finished a respectable fifth, but notched the lowest score in four of the eight weeks he competed. "It was like a crazy bear lost in a swamp," judge Bruno Tonioli once said about one of his dances. In 2010, Cyrus was nominated for the Best Worst Dancer award, but lost to Kenny Mayne.
ABC
Credit Tony Dovolani with creating clever distractions to keep one from noticing how far Wynonna Judd was behind the rest of her Season 16 competition in 2013. She showed progress weekly, but her movements were usually stiff. Judge Len Goodman compared her to Mount Rushmore. She would finish 11th, eliminated after her Samba to Def Leppard's 'Pour Some Sugar on Me.'
ABC
Sara Evans finished sixth during Season 3 of 'DWTS,' but it was fan vote — not judge's scores — that kept her in the competition until she eventually withdrew to be with her kids during her divorce. Like Judd, the Samba would be her final dance. Evans scored at the bottom in back-to-back weeks, so one wonders how long she would have remained on the show anyway. As a dancer, she made progress, but while she was more athletic and flexible than many, it never looked like she wasn't trying to remember her moves as she performed.
ABC
Chuck Wicks probably needed to be wilder below the waist to stay in the competition, but he showed real rhythm during his time on Season 8 of 'Dancing With the Stars.' Wicks and partner/girlfriend Julianne Hough provided some of the steamier moments in the show's history. He put his hands on Julianne's body in a way that would get any other man slapped. It was a chemistry explosion the fans loved. While he didn't have the lowest score until his final week on the show, Wicks was far from the top dancer. Grab a few ice cubes and watch this Rumba to remember just how hot this pair was together.
ABC
Not only has Kellie Pickler placed higher than any other country star to take the 'Dancing With the Stars' stage, but the singer has shown more natural talent than all previous Nashville stars. The girl was doing the splits by week three, proving to be amongst the hardest workers of Season 16 shortly thereafter. Partner Derek Hough recognized her talent, and he was hard on her during rehearsal. She'll need perfection if she's to win the season, however, as she's up against some very talented men and women.