Tater, Chief and Toad: Country Stars and Their Silly Nicknames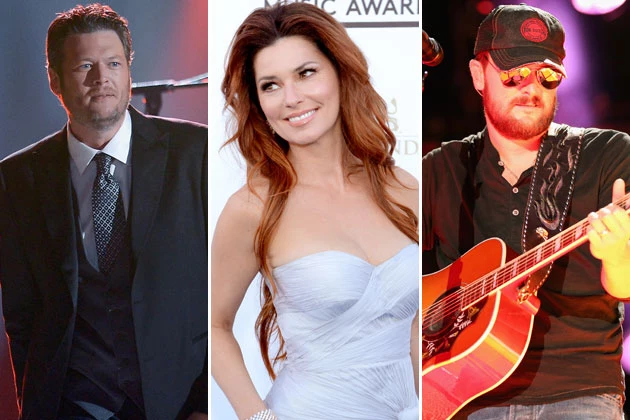 Growing up, Blake Shelton's family didn't always call him Blake. Shania Twain's ex-husband had a very unglamorous nickname for her, while Eric Church took on his grandfather's nickname with the release of his 2011 album. Sure, a few country singers' nicknames are fleeting and silly (Carrie Underwood used to call Billy Currington Walmart Feet, for example), but many have stuck.
Brad Paisley's nickname for Taylor Swift and Hank Williams, Jr.'s nickname from his Daddy are two of the 10 nicknames listed here. Abbreviated names don't count on our list, so this excludes Miranda Lambert and Kimberly Perry, who are known as "Ran" and "KP" to those close to them. We were looking for true nicknames that someone might holler from down the hall. Scroll through and pick your favorites.
Ethan Miller, Getty Images
Blake Shelton's sister told Men's Journal that as a boy, the future country superstar would bring home so many frogs, they started to call him Toad. "He loved all animals: grasshoppers, locusts, lizards, snakes, worms," Endy says. "One time I had a flyswatter and I killed a fly, and he cried." It's no surprise that as adult Toad has become a great outdoorsman who is married to an animal lover.
Rick Diamond, Getty Images
The title of Randy Houser's second studio album was 'They Call Me Cadillac' — but why do they call the 'How Country Feels' singer Cadillac? "Everybody asks me, 'Why do they call you Cadillac?'" the singer told the Boot in 2010. "I always tell them it's because I like everything real smooth. I'm laid back like that. I don't like anybody messing with my good time!"
Christopher Polk, Getty Images
While the title of Eric Church's third album was his grandfather's nickname (he was the police chief), it also became the singer's nickname, but by pure coincidence. His band started calling him Chief. "When I put the hat and sunglasses on, the band started calling me Chief," Church said during the CMA Fest in 2011. "They had no idea it was my grandpa's nickname so it kinda stuck." However, the singer's wife isn't a fan. "Chief stays on the road," he says, laughing.
Kevin Winter, Getty Images
Hank Williams died just a few years after Hank Willliams, Jr. was born, but in addition to a country music gene, he gave his son a great nickname. Bocephus was ventriloquist/comedian Rod Brasfield's dummy, but the elder Williams found it fitting for his boy, and Jr. has always embraced it. It's worth pointing out that Hank Williams isn't either man's real name. Sr. is Hiram King Williams, while Jr. is Randall Hank Williams, also known as Rockin' Randall.
Rick Diamond, Getty Images
One theory suggests George Jones was nicknamed Possum because of a tendency to flake out on shows during his wild years, but that only resulted in the nickname "No Show." Possum, Jones tells CMT, came from two radio deejays who thought he looked like a possum. Ralph Emery and Tommy T. Cutrer came up with the nickname, and it stuck.
Rick Diamond, Getty Images
Kenny Rogers' nickname comes from his biggest hit song. In 'The Gambler,' Rogers sings of two men sitting next to each other on a train. One is in need of advice, and the other (the gambler) has advice to give. In 2013, the singer told Taste of Country he'll occasionally forget the words to this song.
Michael Buckner, Getty Images
Whisperin' Bill Anderson is one of country music's most respected singers and gentleman. He earned the nickname "whisperin'," well … by whispering. Almost. Anderson is known for his soft vocals and occasional spoken-word style. If you hear him sing, you'll agree the moniker fits.
Rick Diamond, Getty Images
Hank Williams also gave Little Jimmy Dickens his nickname. The moniker comes from one of Dickens' early comedic songs called 'Take an Old Cold Tater and Wait.' It was the diminutive singer's first Top 10 single way back in 1949.
Alberto E. Rodriguez, Getty Images
T-Swizzle, Tay Tay and Tater Tot are all names Taylor Swift has been called during her career. Brad Paisley gave her the name Tater Tot when the two toured together. The name on her dressing room door was always changed to Tater Swift, and the then-teen songstress took it in stride. She says it's her least favorite nickname, however.
Jeff Bottari, Getty Images
Looking back on it, Woody isn't a great nickname for Shania Twain, especially coming from her husband. Mutt Lange gave her the nickname because a hairdo she sported reminded him of Woody Woodpecker. They divorced in 2010, and she's since remarried a man who presumably doesn't compare her to a cartoon bird.