Daily Roundup: Carrie Underwood, Ronnie Dunn + More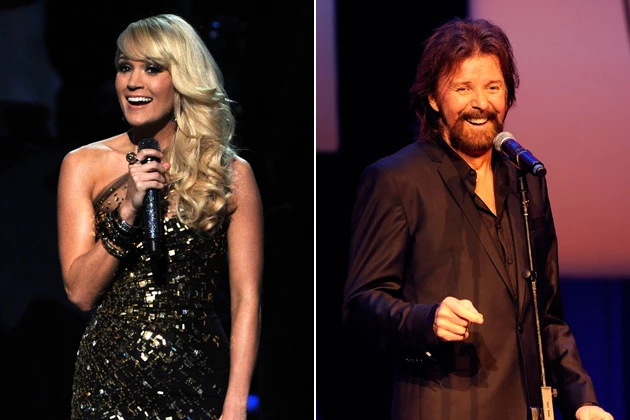 Carrie Underwood has never declared her political allegiances, but someone in politics is certainly claiming her… along with a handful of other country artists. That's the top headline in the Taste of Country Daily Roundup, but by scrolling through you'll also find Ronnie Dunn's thoughts on being a first time grandfather, Miranda Lambert's surprise guest at a show in Colorado and what Taylor Swift is doing to get your vote for the ACM Awards.
Today on Taste of Country:
Carrie Underwood, Tim McGraw + More Make Mitt Romney's Spotify Playlist
Ronnie Dunn Opens Up About Life as a First-Time Grandpa
2012 ACM Award for Video of the Year – Who Will Win?
Taylor Swift's Cat Wants You to Vote for Her as 2012 ACM Entertainer of the Year
Josh Turner is Star of Board Room and Basketball Court in New 'Time is Love' Video
Caption This Picture: The Band Perry's Neil Perry Shows Off Hairy Mug Shot
LeAnn Rimes Reveals Title of Her Forthcoming New Album
Gloriana to Appear in Season 8 of 'The Bachelorette'
Miranda Lambert Sings With Surprise Guest Kelly Clarkson in Colorado
Josh Kelley Shares Hidden Talent With Charcoal Drawing of Wife and Daughter
Taylor Swift Performs 'Eyes Open' Live in New Zealand
The Band Perry Looking Forward to Sold Out Shows Overseas
Miranda Lambert vs. Jason Aldean – The Showdown
Zac Brown Band, Sonia Leigh + More Included on New Southern Ground Artists Compilation Album
Rhett Akins Invites Jake Owen, Dierks Bentley + More to Annual Country Goes Huntin' Charity Turkey Hunt
Taste of Country Also Recommends:
Justin Bieber Beaten to a Pulp on Complex Cover
Should TSA Have Patted Down a 3-Year-Old in a Wheelchair?
Gene Simmons Talks Marriage at the 'Hotter Than Hell' Chapel
Jack Johnson Plays 'Mudfootball' for a Good Cause
Adele Trying to Lose Weight
2012 Lowe's 'Coloring Book' Commercial – What's That Song?