Gloriana's Rachel Reinert Isn't Expecting a Ring This Christmas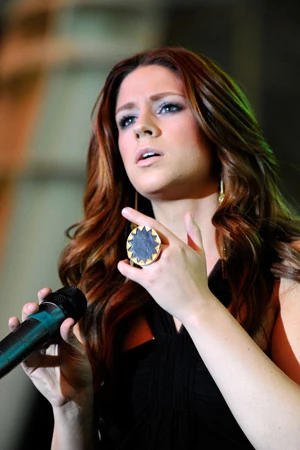 After a turbulent 2011 that included the departure of Cheyenne Kimball from Gloriana, Rachel Reinert says she's grateful for a little time off this Christmas. Any gift will be gravy. While the remaining three members of the band don't exchange presents, she will be spending time and swapping gifts with her boyfriend of two years this Christmas. Could this be a season of magic and romance for the 22-year-old?
"Not right now. We're just really happy right now," Reinert tells Taste of Country when asked about a potential proposal. She goes on to say that the pair have not yet gone shopping for rings, and she's heard no hints from her boyfriend or family, explaining, "It's one of those things where I'm 22-years-old and, we're just happy right now and that's it. That's all that matters."
The dark-haired beauty says that if her band has a rare New Year's Eve off, she won't be painting the town red. Although she will be staying near the famous ball drop in New York City's Times Square, Reinert will keep it cozy inside.
"I am totally lame and boring like that. I really would love nothing more than just a quiet night in if we're not working," she admits. "I can't remember the last time I had a New Year's Eve where I just did nothing. So I'm looking forward to that if we don't have a show."
Reinert says she's hopeful the band's sophomore album will be released in early 2012, but can't confirm any dates. The project will include their current single, '(Kissed You) Good Night.' As for her first kiss: "I think that my very, very first kiss I was pretty young. I think I was maybe in kindergarten [laughs]. You know, just like a little peck. But I think that everyone has that one specific moment and they'd like to remember the most recent first kiss more than the ones in the past."