Josh Kelley, 'Gone Like That' – Lyrics Uncovered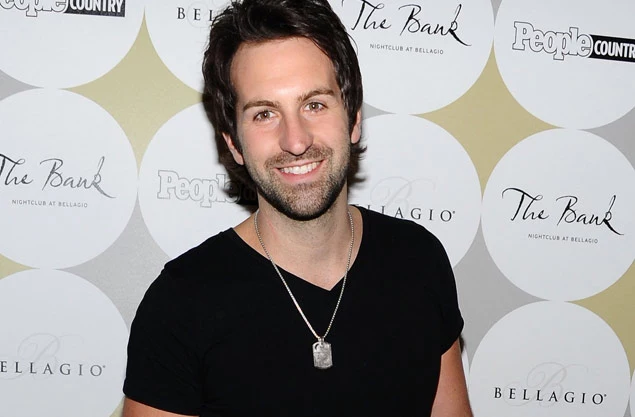 Josh Kelley's new single, 'Gone Like That,' is the second release from his debut country album, 'Georgia Clay.' The tune is the follow-up single to the album's title track, which broke the Top 20 for Kelley. 'Gone Like That' was written by Kelley, along with Clint Lagerberg and Nicolle Galyon, and it played a significant role in landing the soulful singer his deal with MCA Nashville.
"When we got together to write, I had an idea and Clint had an idea, too, when he came in," Kelley tells Taste of Country. "So we listened to each other's ideas, and realized they worked perfectly together. He had a very similar concept. Whenever the person who has been broken up with decides that they are finally over that person, it's like the person who broke up with you has a weird sense about things. They will text you or they will call you the moment you decide that you are over somebody. They'll get in touch with you. They will show up at whatever bar you're at, even if there's 20 bars in that city. They'll show up right there! They know. It's like they're going, 'How dare you forget me!'"
"In the song, she basically shows up at the bar, and she starts walking towards him," Kelley continues of the concept of the lyrics. "He's like, 'Oh my God … this is tempting. It's familiar … I know this.' But then he reminds himself that he's not going to let that happen again."
"Why'd she have to look so beautiful? / Why'd she have to pick this place? / I hope she brought an explanation / I hope she doesn't look my way / 'Cause it'll be hard to say hello to her / When she never said goodbye / It'd take every bit of strength I've gained / To not get lost in those eyes," they wrote in the song's opening lines.
"It's kind of an anthem for all those people," notes Kelley. "It's like, 'I refuse to let you back in my life and let you trample all over my heart again.' That's sort of the concept behind the song: I cannot take another gone like that."
"Oh, but I can't take another gone like that / Can't take another hurt so bad that I can't breathe / I can't sleep / Don't wanna eat," Kelley sings in the lyrics of the chorus.
"It's the song that got me my record deal," Kelley says. "It's the song that put me back in the eyes of record labels. Otherwise, I was independent. I was trying to write songs to cut. I remember when we finished it, I thought it would be perfect for Keith Urban. I sent it to my publisher and we did the demo. My publishers were like, 'Bro … we think you should give country another shot.' That's kind of how it happened. They convinced me to try and get a record deal again. They said they wanted me to try it. They wanted me to record a really great version of the song, and they said they would help me shop for a record deal. If I never wrote 'Gone Like That,' it probably would have never happened."
"I'm having the time of my life," adds Kelley. "'Georgia Clay' really set everything up for me, and now we're pushing real hard. I'm considered a baby artist right now. We've got to push really hard to get people to listen and add the song and take a chance on a new artist. I feel that I can be a real asset as far as a career artist."
Watch the Josh Kelley 'Gone Like That' Video