Kacey Musgraves Almost Gave Katy Perry Her Song of the Year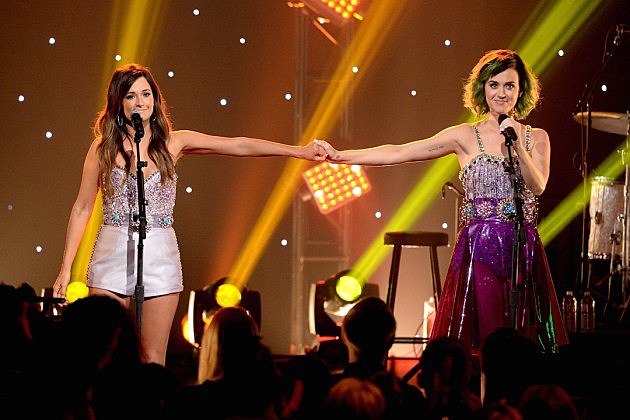 Kacey Musgraves may have won big at the CMA Awards with her song, 'Follow You Arrow,' but she says that someone else almost owned it — pop star Katy Perry.
Musgraves sat down with People for their special CMA Awards issue, and revealed that she originally presented the tune to Perry during a songwriting session to see if the 'Roar' singer would like to record it. Musgraves brought the melody and a rough chorus to Perry, only to have her encourage her to record the song herself.
"Honesty, it sounds like something you would sing," Musgraves says Perry told her, adding that although Perry loved the song, she ultimately thought Musgraves should keep it for herself.
It's a good thing, too, because although 'Follow Your Arrow' covers some potentially controversial topics like same-sex kissing and marijuana smoking, it ended up being a big success for Musgraves, even leading to her win at the CMAs for Song of the Year. And despite some of the backlash that she knew the song would face, it's clear that the 'Merry Go 'Round' singer truly believes in the song, prompting a heartfelt acceptance speech about it being part of a tradition of "simple, good songs about real life."
"I knew it wasn't going to be a radio song, and it was banned in a lot of places so it's kind of crazy to me that it's nominated for a CMA," Musgraves told People before her big win. "But if there are kids in small towns — or big towns — who don't feel like they belong, and this song gives them courage to walk taller, that's better than any award I can ever hope to win."
Startling Facts About Women and Country Radio
Subscribe to Taste of Country on