ToC Critic's Pick: Kalie Shorr, 'Fight Like a Girl' [Listen]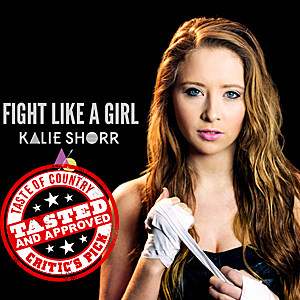 Kalie Shorr's "Fight Like a Girl" is everything you expect from the title, and then it's much more. Yes, it's an anthem for marginalized females in country music, business and life. But it's also a reminder of what songwriters in Nashville and beyond are fighting for daily.
The #LetTheGirlsPlay singer's wispy voice is canary sweet even though her lyrics are a punch to the solar plexus of any disparaging man, woman or other. The #Saladgate controversy inspired Shorr's lyrics, but this song is not just a three-minute retort. She's better than that. The song is better than that.
Her lyrics are imaginative and dramatic. A story plays out in the listener's mind of this empowered woman conquering her demons. She's "perfume sweet and whiskey strong," but still trying to make her mother proud. We know this girl — or maybe we are this girl. A middle-aged man can't help but throw a hand in the air as she cries out "I damn sure ain't no underdog" one final time.
A song like this can go wrong if the singer doesn't believe what she's saying, or if they only go halfway. Shorr — a rising female singer and songwriter and leader with Song Suffragettes — owns it like Martina McBride owned "Independence Day." "Fight Like a Girl" is a song that needs to be heard now, tomorrow and in the months and years to come.
Listen to Kalie Shorr, "Fight Like a Girl"
Subscribe to Taste of Country on
Learn Kalie Shorr's Story Through Her Photos: 
Kalie Shorr, "Fight Like a Girl" Lyrics:
"He's calling out my name / He says I'm just a featherweight / He thinks the slightest breeze could blow me over / What he doesn't know is I've got a slingshot and a stone / And I can win with no one in my corner / So don't you even try to hold me back."
Chorus:
"I got my high heels on with my boxing gloves / I could knock you out with a one-two punch / I'm perfume sweet and whiskey strong / I damn sure ain't no underdog / I might fall down but I get back up / I shine brightest when the going's tough / You say I can't, well darling watch me / You can't stop me because I fight like a girl."
"I'm little but I'm loud, just wanna make my mama proud / And you can tell without a doubt that I'm her daughter / She raised me to believe that I can be anything / So when you push me I just push back harder."
"I fight hard, I fight tough, I fight fair / Won't stop fighting til' I get there / No I ain't afraid to cry / Everybody's gotta feel something some times / I fight hard, I fight tough, I fight fair / Won't stop fighting til' I get there / No I ain't afraid to cry / I ain't afraid to fight."
Want More Kalie Shorr? Listen to "Nothin' New"
Subscribe to Taste of Country on