Keith Urban and Russell Crowe Cover Johnny Cash's 'Folsom Prison Blues'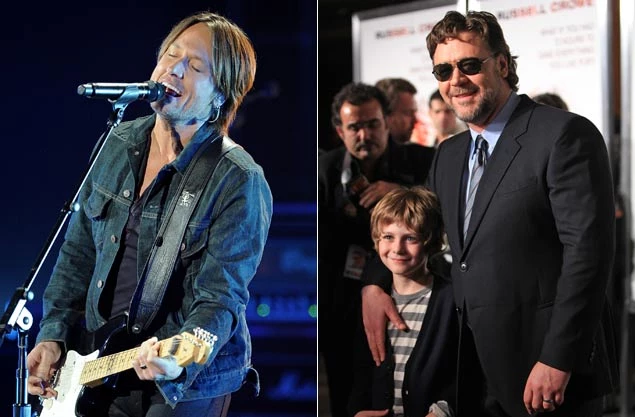 Keith Urban surprised fans in Vancouver last Monday night by bringing one of the biggest stars in Hollywood onstage to sing two songs. No, not that Hollywood star. Russell Crowe walked on tage brandishing an acoustic guitar (were you hoping for Nicole Kidman?). Urban fans not familiar with Crowe's musical pedigree were no doubt surprised to learn the actor can really sing.
"We don't usually do this," the Vancouver Observer reports Urban said, "but a friend of mine happens to be in town shooting a movie so he's here tonight … give it up for Russell Crowe!" In addition to backing up Urban on the Steve Miller Band's 'The Joker,' Crowe took the microphone for an over five-minute long version of Johnny Cash's 'Folsom Prison Blues.' He mimicked the Man in Black's style, while putting his own stamp on the vocals.
Urban mostly backed up the 'Gladiator' star, although he did rip off three guitar solos, much to Crowe's and the audience's delight. The crowd erupted before the actor waved goodbye and walked offstage exhausted.
Crowe's current musical project is Russell Crowe and the Ordinary Fear of God, a band that successfully toured across America and Australia in 2005 and 2006. He's been an active musician since the '80s, most famously with 30 Odd Foot of Grunts. After performing with Urban the actor tweeted, ""hey @KeithUrban great gig last night mate, thanks for letting me join in the fun, travel safe."
Watch Russell Crowe and Keith Urban Perform 'Folsom Prison Blues'