Mindy McCready Dead at 37: Country Artists React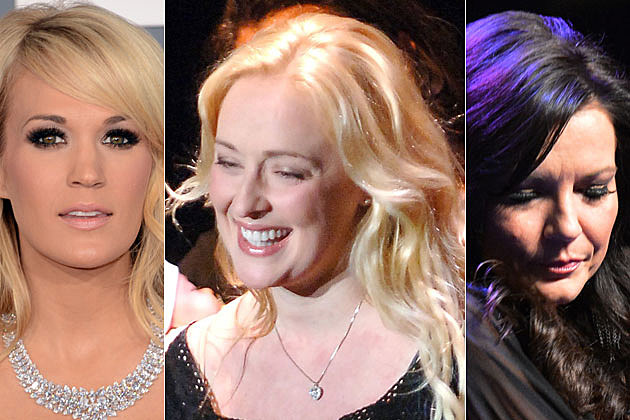 The death of Mindy McCready has caused an outpouring of emotional responses from country artists who knew the troubled singer, as well as those who only heard her music growing up. The 37-year-old 'Ten Thousand Angels' hitmaker took her own life on February 17, 2013, barely one month after her boyfriend and the father to her youngest son died.
"Sleep in Heavenly peace Mindy," Wynonna wrote late Sunday night (Feb. 17). It was one of several tweets from the country music legend, and she wasn't alone. Country music's biggest names came together to honor a woman who began a promising career in the mid-'90s and touched many, despite her own troubled life.
I grew up listening to Mindy McCready…so sad for her family tonight. Many prayers are going out to them…

— Carrie Underwood (@carrieunderwood) February 18, 2013
Just heard about Mindy McCready. My thoughts and prayers are with her 2 boys and her family.

— Jason_Aldean (@Jason_Aldean) February 18, 2013
So sad. RT"@wztv_fox17: Fox 17 News has now confirmed Mindy McCready has committed suicide."

— Martina McBride (@martinamcbride) February 18, 2013
RIP @mindymccreadyWe met 14 years ago @ Acuff & Rose. Who'd thought 14 years later on this day…. #why

— Jimmy Wayne (@JimmyWayne) February 18, 2013
Dang, sad to hear about Mindy McCready…..she had a tough run, hate to hear it had to end like this…prayers

My heart is breaking hearing of the loss of Mindy McCready. Pray for her 2 precious little boys…may God's peace & protection be on them!

— Hillary Scott (@HillaryScottLA) February 18, 2013

— Brett Eldredge (@bretteldredge) February 18, 2013
My heart goes out to Mindy McCready's family.I knew her well.It's a horribly tragedy.May peace be with her son's.

— LeAnn Rimes Cibrian (@leannrimes) February 18, 2013
Oh my! Mindy. Dear sweet girl. This is so sad. It just breaks my heart what addiction continues to take from this life.

— Wynonna Judd (@WynonnaMusic) February 18, 2013
So sad to hear about Mindy Mcready. It's just heartbreaking.

Mindy was a sweet girl…this is very sad for all..pls pray her boys will have strength and a good life

— Clay Walker (@ClayWalker) February 18, 2013

— Meghan Linsey (@meghanlinsey) February 18, 2013
Very sad to hear about Mindy McCready. When I was in Lonestar she was our label mate and we were friends. A tragic end to a talented life.

— John Rich (@johnrich) February 18, 2013
Really really sad to learn the news about Mindy McCready.I will pray for her children and I hope that people are gentle with her memory

— Chely Wright (@chelywright) February 18, 2013
Hate hearing about anyone committing suicide. May Mindy McCready rest in peace… #sosad

— Jerrod Niemann (@jrodfromoz) February 18, 2013