10 Best Montgomery Gentry Songs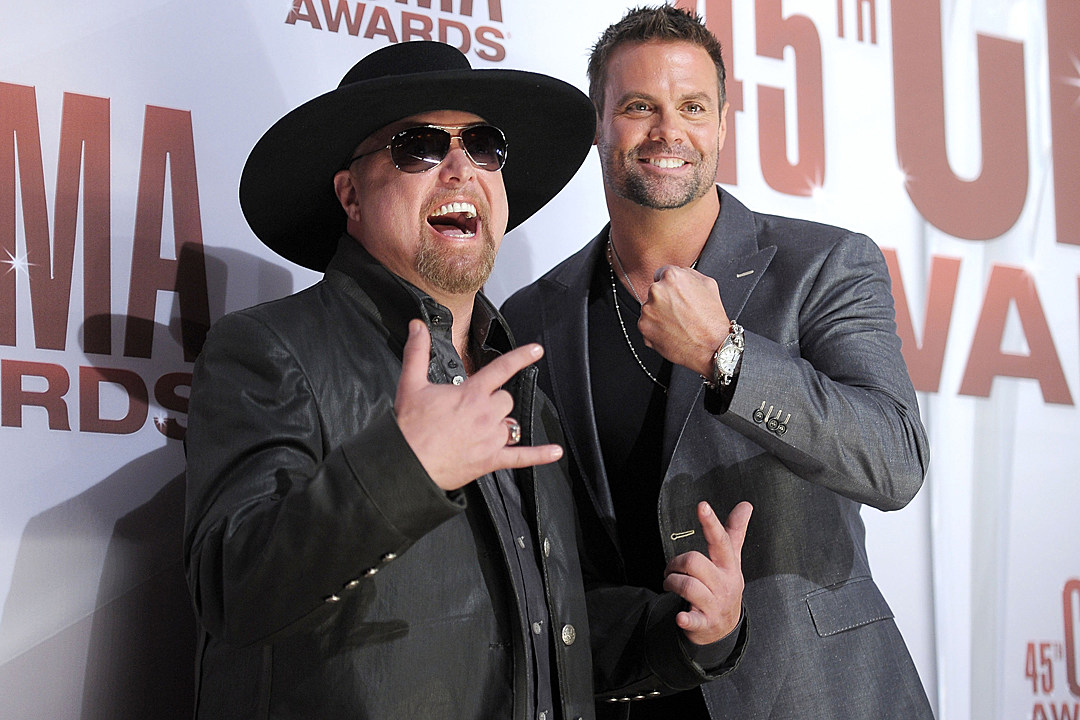 Montgomery Gentry established themselves as one of the most successful duos in country music history. The best Montgomery Gentry songs are a mix of rock and country, but always with an eye toward honesty.
Their beloved hits, many of which have crossed genre borders, win lifelong fans, who celebrate their hits including "Lucky Man," "Hell Yeah," "Gone" and more. The duo possessed a gift for being able to convincingly deliver an honest song about small town roots in between rollicking numbers that always get the party started.
Each of the songs on the list of the best Montgomery Gentry songs charted in the Top 10 on the country charts, and three of them claimed the No. 1 or 2 spot. Though longtime fans may agree to disagree with some our selections, we can all concur that whether they're reaching for your heartstrings with the poignancy of "Lucky Man," honoring integrity on "Something to Be Proud Of" or setting the stage for a good time with "Hell Yeah," Montgomery Gentry's best song have a special way of connecting their music to the world and their loyal fans.
Troy Gentry died in a helicopter crash on Sept. 8, 2017, but his memory and music will always live on in the hearts of fans. Celebrate his legacy with the 10 Best Montgomery Gentry songs.
"She Couldn't Change Me"
From 'Carrying On' (2001)
While "She Couldn't Change Me" isn't Montgomery Gentry's most powerful song, it has all the elements of a classic country tune: good lyrics, a welcoming melody and a clever story. With its traditional country sound, Montgomery Gentry proved what a driving force they were in the genre when "She Couldn't Change Me" was one of their highest peaking songs on the all-genre Billboard Hot 100, showing that the best Montgomery Gentry songs are irresistible to fans of all kinds.
"One in Every Crowd"
From 'Back When We Knew it All' (2008)
There's "one in every crowd" indeed, and this one's a standout in Montgomery Gentry's crowd of best songs. The track is an upbeat, fun-loving highlight of their expansive music catalog, scoring a Top 5 hit for the duo. "One in Every Crowd" is a true country jam and a song tailor-made for the point in a live show that calls on fans' energy and enthusiasm.
"Some People Change"
From 'Some People Change' (2006)
In what is perhaps the most unique song of their career, Montgomery Gentry inspire hope that people truly change for the better in this touching number. "Here's to the strong, thanks to the brave" the duo sing over stories of people finding their faith and abandoning their harmful habits, making for an uplifting track. The presence of a gospel choir adds that much more power to a song that landed in the Top 10 on Billboard's Hot Country Songs chart.
"Where I Come From"
From 'Rebels on the Run' (2011)
You may be able to criticize the things you love, but no one else is, and "Where I Come From" is the ultimate anthem for that statement. Montgomery Gentry continue in the vein of honoring the integrity of country life on the track. The duo's delivery of the song is genuine, with fans knowing full well that they're proud of where they come from, just like the listeners themselves, making it one of the best Montgomery Gentry songs.
One of the more emotional songs of their career, "Speed" finds Montgomery Gentry trying to escape the memories of an old flame. Eddie Montgomery's rugged, yet passionate vocals establish "Speed" as a strong country song about speeding away from the women who broke his heart. The compelling lyrics and heartfelt delivery make for one of Montgomery Gentry's best songs, earning them a Top 5 hit in 2002.
One of the things Montgomery Gentry did best is delivering an authentic country song, and "My Town" is a true celebration of map dot towns. Country fans love a good song about humble hometowns and small town life, and "My Town" pays homage to that lifestyle. Whether from the city or out in the country, it's safe to say fans of all kinds see themselves in this song.
Sometimes you just need a feel-good party song, and "Hell Yeah" delivers on all fronts. The lyrics of "Hell Yeah" show that everyone needs some time to party, from rednecks to uptight corporate types. It's the type of song that's instantly recognizable the moment you hear its opening chords, making it impossible not to sing along. Montgomery Gentry know how to start a party, and "Hell Yeah" gets the job done in the best way possible.
"Something to Be Proud Of"
From 'You Do Your Thing' (2004)
Montgomery Gentry shine when they're telling humble stories, and "Something to Be Proud Of" is a prime example. The nostalgia factor runs deep in this unwavering track that's all about integrity from learning from those that came before you. The vibrant storytelling lyrics and passionate delivery from the duo earned them their second No. 1 hit.
"Gone"
From 'You Do Your Thing' (2004)
Perhaps the duo's most celebrated signature hit, "Gone" shows off Montgomery Gentry's talent in its truest form. As catchy as any hit should be, "Gone" takes the listener on a wild ride with its energetic beat and fiery vocals from Troy Gentry. One can't help but sing along to every word when the track comes on, inviting you to get lost in the song's energy, making "Gone" one of the very best Montgomery Gentry songs.
"Lucky Man"
From 'Some People Change' (2006)
One of Montgomery Gentry's most beloved singles, "Lucky Man" is the kind of down-to-earth song country fans crave. Honest, grounded and thankful are just a few of the words that fit the bill for this sweet song, which finds the narrator detailing all the important factors of life he's grateful for, including family and faith. The song not only topped Billboard's Hot Country Songs chart, but also rightfully scored the duo their first Grammy nomination in 2008. Its poignancy and universal message put it at the top of the list of Montgomery Gentry's best songs.