RaeLynn's Been Having an 'Awesome' Time Promoting 'God Made Girls'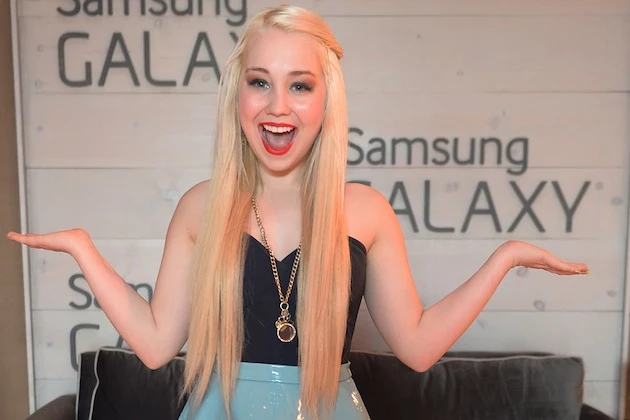 Former 'The Voice' contestant RaeLynn has been pretty busy lately. The 20-year-old has been promoting her debut single 'God Made Girls' while on a radio tour, an experience she says has been, well, "awesome."
"It's been going really good, you know we just finished up our tenth week of radio tour," she tells Taste of Country. "You know, getting the word out there about 'God Made Girls' and it finally just went to radio not that long ago, and it's on the chart — that's crazy to me."
Not only is RaeLynn on the charts, but she's climbing them. Adds the singer, "it's crazy to see my name on the charts, it's been awesome."
Was putting this song out as her very first single a difficult choice? Not for RaeLynn and her team — this one stood out among the rest (and there are a lot). "I've written over 70 songs, so it was kind of hard to pick what we were going to send to radio," she explains. "We narrowed it down to four and I think it definitely stood out as the first single — we wanted to go out with a girl empowerment song."
"There's just something so special about 'God Made Girls,' it comes from a girl's perspective and there's nothing like that on radio right now," says RaeLynn, "and so I think that's what made us able to pick that song as a single."
Spunky RaeLynn gets to take credit for more than just singing the tune. She actually co-wrote the song with Nicolle Galyon, Liz Rose and Lori McKenna, whose ages — and perspectives — are all over the board.
"I think that's why it is the song it is," RaeLynn explains. "You have me, who I'm 20, Nicolle's 30, Lori's in her 40s and Liz is in her 50s. You have all these different women and all these different perspectives of being a girl in this world and I think that's why so many different women can relate to it. 'Cause you have, you know, Liz who's gone through things that I haven't gone through, and you have Lori and even Nicolle … I think that's one of the reasons why it's the song it is."
It's only been two years since RaeLynn was on the second season of 'The Voice' in 2012. She's done a lot in that time, including songwriting, writing lots of music and getting out on this radio tour. Even though she didn't win the show, she built a friendship with both Miranda Lambert and Blake Shelton. It's safe to say things are going well for the young singer, but she says she dreamt it all along. She admits she envisioned all of this happening.
"'The Voice' ignited a fire in me to be an artist and to be a country singer, but not winning ignited an even bigger fire, because I was just like, 'First of all, I know that I want this' now I wanted it even more," she says, adding, "'cause I didn't know if I had a record deal. and so I was like, whatever I've got to do to get a record deal, whatever I've got to do to get to that next level."
Concludes the rising starlet, "I moved straight to Nashville and began writing, and I mean, it's so crazy to look back and see all that I've accomplished. I didn't know it would happen this fast."
Startling Facts About Women and Country Music
Subscribe to Taste of Country on