Secret Sisters Joined Onstage by Elvis Costello at New York's Irving Plaza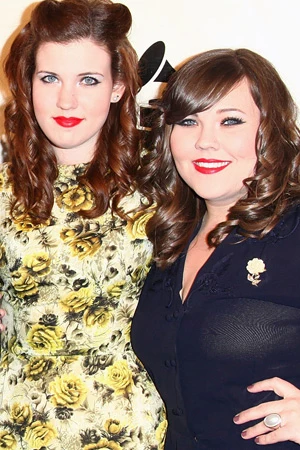 As if opening for an attentive crowd at an at-capacity Amos Lee gig isn't impressive enough, last night (April 1) country newcomers the Secret Sisters got an introduction most musicians could only dream of: "Welcome to the stage … the Secret Sisters!" Elvis Costello — certainly a surprise attendee, nevermind emcee — said at New York City's Irving Plaza.
Costello, who'd nonchalantly strolled onstage at the Sisters' set-time start and rolled straight into 'A Slow Drag With Josephine' (a track off of his 2010 release, 'National Ransom'), then warmly welcomed the girls to join him.
The Secret Sisters, real-life Alabama-born sisters Laura and Lydia Rogers, bathed the room in southern charm. Their '50s-inspired curls, heels and dresses were just finishing school touches to the lovely yet heart-wrenching harmonies that filled the space as they launched into a cover of the Hank Williams classic 'Why Don't You Love Me' alongside Costello. This happened at 8PM, and BrooklynVegan reports via Twitter that by 8:45PM, Costello had hopped on uptown to Madison Square Garden for drop-in No. 2 of the night: a short set at rockers the Strokes' show.
No matter — the Sisters, who released their T Bone Burnett-produced self-titled debut last year, can hold their own. "I don't know how we're gonna top that off, but I guess we'll give it a shot," Laura said, and they did, taking on George Jones' first charted single, 'Why Baby Why,' and making us believe it when they sang the lyric "I got a crow I wanna pick with you."
"You're a lively bunch," Laura said mid-set, commenting on the onlookers' energy, before laying on the sugar: "We always are so happy to play New York City because of crowds like you. You're just so sweet and kind to us."
Other Secret Sisters set highlights included their own original songs, the pretty 'Tennessee Me' (recently accompanied by their very first music video) and the not-yet-released 'River Jordan,' plus a cover of Patsy Cline's 'Leavin on Your Mind' — which proud older sister Laura let Lydia take lead on — and another Hank Williams tune, 'Your Cheatin' Heart.'
They closed the act with a cover of Willie Nelson's 'Blue Eyes Crying in the Rain' and gospel mainstay 'In the Sweet By-and-By' before leaving the show to Amos Lee, whom the good-natured Secret Sisters referred to as "the bomb-dot-com."
Watch Elvis Costello and the Secret Sisters Perform Hank Williams' 'Why Don't You Love Me'