Steel Magnolia, 'Last Night Again' – Lyrics Uncovered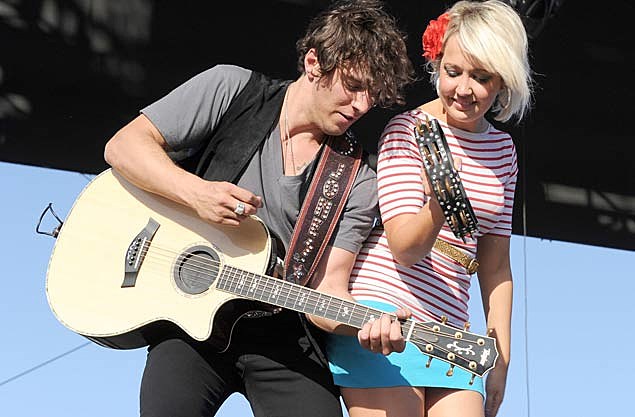 After winning CMT's reality singing competition, 'Can You Duet?' in 2009, Joshua Scott Jones and Meghan Linsey — now known as Steel Magnolia — had to come up with songs to fill an album relatively quickly to keep their momentum going. One of those songs written during that time period is their latest single, 'Last Night Again.'
"We rushed up to record, [and] we had to write a few more songs for [the album]," Jones tells Taste of Country. "Allison Jones, A&R at Big Machine, asked, 'Do you have any favorite writers?' We'd heard Hillary Lindsey's songs, and we were always like, 'Gosh, man … her songs are great.' So we really wanted to get with her. We went over there, and she's like my age and this cool, laid-back chick. So we sit on her floor and had a few beers and just wrote that song in a couple hours one afternoon … one sunny afternoon."
"It's a young love, first time kind of thing," adds Linsey.
"It's really just about hooking up," Jones smirks. "It's a hook up song! Live, I'm always like, 'Hey, this song's about hooking up. For anybody who hasn't hooked up, your parents have.'"
"Cause last night I was calling you mine / Discovering each other until the morning light / I don't know where this is going but it sure feels right / Don't want to leave you here tonight / So let's do what we did last night … again," the duo sings in the song's chorus.
"It just wrote itself really quickly," says Linsey. "It was pretty easy. [Hillary's] real laid back. She's amazing. It was really easy to write with her."
"There was a good tension in the room," Jones agrees.