The Band Perry, Kacey Musgraves + More Share New Year's Mayhem, Injuries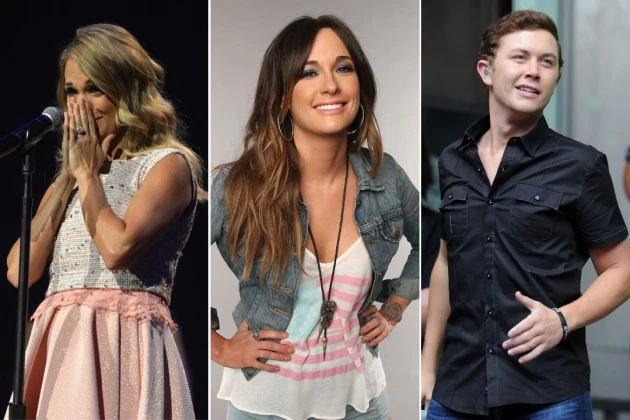 With a new year comes new parties, new resolutions and sometimes even mishaps (we're looking at you, Kacey Musgraves). Country stars took to social media to wish their fans a happy new year, announce their resolutions and share their party pictures from New Year's Eve.
We collected some of our favorite tweets and Instagram photos to see just how the stars rang in 2015 — one even brought it in shirtless! From kisses and cuddles to already broken resolutions (we still support you, Dierks Bentley), we saw it all! If this is any hint to the new year, we think 2015 will be a great one!
So yeah. Reid went ALL OUT for the #NewYear last nite. AND HE STARTED HIS OWN INSTAGRAM: http://t.co/AlBbo0D3Ce pic.twitter.com/Z5OAAKJZDy

— The Band Perry (@thebandperry) January 1, 2015
Happy New Year!! pic.twitter.com/9l3P761b24

— Lee Brice (@leebrice) January 1, 2015
I've already gotten my first injury of #2015. Boiling water spilled all over my arm. Starting out the year in a #BlazeofGlory #Burnbabyburn

— Lauren Alaina (@Lauren_Alaina) January 1, 2015
Yeah. Cheers. Where my band @? pic.twitter.com/VI81djyNty

— EliYoungBand (@EliYoungBand) January 1, 2015
Go big or go HOME. #newyears pic.twitter.com/OvwwNJ2KDK

— RaeLynn (@RaeLynnOfficial) December 31, 2014
Happy new year y'all. 2015 let's do it.

— Luke Bryan (@LukeBryanOnline) January 1, 2015
Happy New Year! I have a feeling 2015 is going to be a pretty amazing year! May yours be blessed with lots of love, health and happiness!

— Carrie Underwood (@carrieunderwood) January 1, 2015
2014 was magic. You guys are awesome. So stoked to start 2015! Happy New Year everybody!

— Hunter Hayes (@HunterHayes) January 1, 2015
HAPPY NEW YEAR YALL!

— Scotty McCreery (@ScottyMcCreery) January 1, 2015
already broken my first new year's resolution for a sober january. hard w/ this view. oh well, there's always 2016! pic.twitter.com/g9N5NpH8cJ

— Dierks Bentley (@DierksBentley) January 1, 2015
Last tweet of 2014… What a great year.. Great friends & family. I'm a lucky man. Here's to another great one. I wish you guys the best

— Jake Owen (@jakeowen) January 1, 2015