Tim McGraw, 'Last Dollar (Fly Away)' – Lyrics Uncovered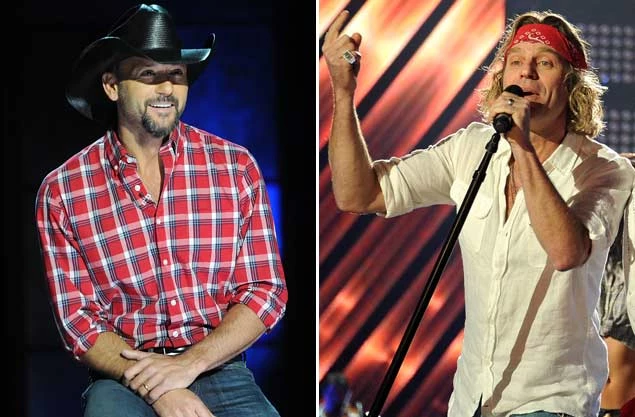 Today, America mourns the tragedies of the 10-year anniversary since the terrorist attacks which occurred on 9/11. For Big and Rich's Big Kenny, the 9/11 attacks happened at possibly the lowest time in his life, as he was a struggling singer-songwriter trying to get his foot in the door in the country music scene, writing lyrics to songs like Tim McGraw's 'Last Dollar (Fly Away).'
"I was laying on my mattress in my apartment because that was all I had," Big Kenny tells Taste of Country of the morning of September 11, 2001. "That was all I had. I was over $200,000 in debt, and more than half of that was on credit cards. I was flipping back and forth to pay to make records and help my friends. That [time period] is what inspired me to write [the lyrics to] 'Last Dollar.'"
That year on New Year's Eve, Big Kenny was in his hotel room by himself in Las Vegas when he finally hit rock bottom. "I went to pull my shoes off at 5:30 in the morning, and the heel came off the bottom of my boot," he recalls. "I didn't know how I was going to eat or get home. I laid back on the bed and said, 'Lord, what's next?' In the next 30 minutes, the lyrics came to me."
"I'm down to my last dollar / I've walked right through my shoes / Just a small reminder of the hell that I've gone through / But look at me still smiling as I'm wondering what I'll do / Since I ain't got nothing I got nothing to lose," he wrote in the song's lyrics.
Big Kenny continued with the song which helps inspire and give hope to those who have reached the end of the rope in life.
"1, 2, 3, like a bird I sing / 'Cause you've given me the most beautiful set of wings / And I'm so glad you're here today / 'Cause tomorrow I might have to go and fly away," he wrote in the lyrics of the 'Last Dollar (Fly Away)' chorus.
"Tim McGraw heard that the first year we were touring together, and for six months he asked me if he could cut it," says Big Kenny. "Finally I told him, 'If you really feel like you love it that much then I can't stop you!' He cut it, and it became a No. 1 song."
In true Big Kenny fashion, he took what he earned on having a chart-topping song and put it to good use. "That's what spawned helping to get a school built in Sudan for 550 girls, and that's what spawned pulling dozens of girls off the streets here in Nashville," Big Kenny says with pride. "So much crazy stuff has happened because of that song."
Watch the Tim McGraw 'Last Dollar (Fly Away)' Video