Emotional Performances From Toby Keith, Garth Brooks Highlight Oklahoma Twister Relief Concert – Pictures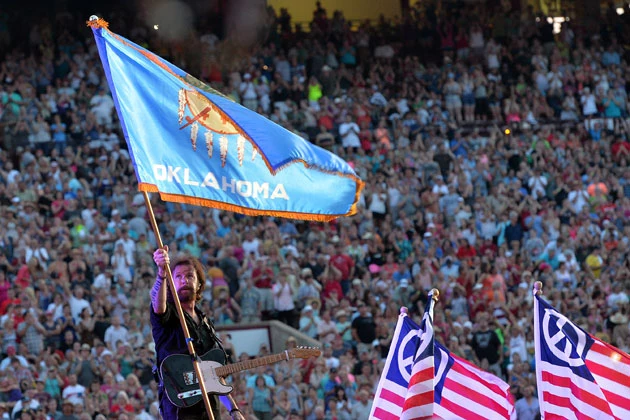 High temperatures didn't hold Toby Keith and friends back at the Oklahoma Twister Relief concert on Saturday (July 6). Oklahoma's greatest living legends — and there are a lot of them — returned to Norman, Okla. to play a sold-out show at the Gaylord Family Oklahoma Memorial Stadium. All money raised went to victims of the deadly May tornado in the singer's hometown of Moore, Okla.
Keith was the headliner, and his set was still going seven hours after the first note (a beautiful rendition of the 'Star Spangled Banner', performed by Krystal Keith, according to the Tulsa World) dropped. Garth Brooks performed more than a half-dozen songs, including 'In Another's Eyes' with Trisha Yearwood, before getting back to Vegas for another show.
"Let's have some fun and raise some hell," he said. "Today the healing begins."
Ronnie Dunn and rocker Sammy Hagar also played full sets around shortened sets from legends like John Anderson and Wade Hayes. Willie Nelson took the stage, and of course Keith joined him for 'Beer for My Horses.' Carrie Underwood performed four songs via satellite from the Grand Ole Opry. Then Keith took the mic, delivering over a dozen of his biggest hits, including a version of 'Red Solo Cup' that became 'Red Sooner Cup' to honor the University of Oklahoma.
Totals of how much money was raised have not been made available yet. All artists were quick to praise Keith for organizing the show, with Dunn calling him "the Man of the Year."