Tomato Pie Recipe by Sara Evans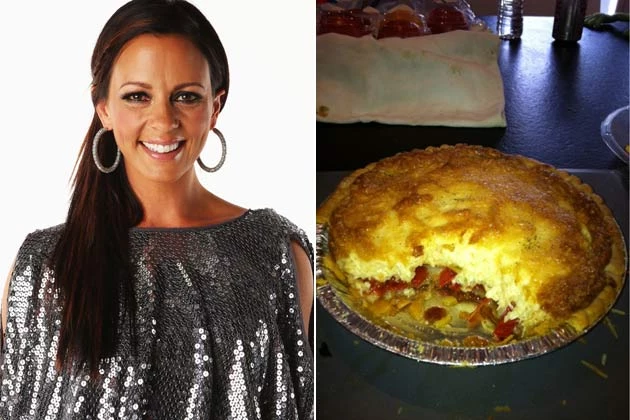 "[This is a] new recipe a friend told me about," Sara Evans writes on her official website, referring to her new favorite tomato pie recipe. "Yum! It's sinful! I bet you all want to make the pie for yourselves! So many people asked for the Tomato Pie recipe I thought I better share it. Enjoy!"
Tomato Pie Recipe Ingredients:
Pillsbury pie crust
Sliced Ripe tomatoes (any kind)
Lots of salt and pepper
All-purpose Flour
1 cup mayonnaise
1 cup shredded Parmesan cheese
Tomato Pie Recipe Directions:
1. Layer ingredients from bottom to top in a pie pan.
2. Sprinkle flour over tomatoes.
3. Mix mayo with Parmesan and make that the next layer.
4. Bake at  350 degrees for 15 minutes.
5. Go play tennis for an hour and slice and enjoy!