Uncle Kracker Heading to Nashville to Record New Album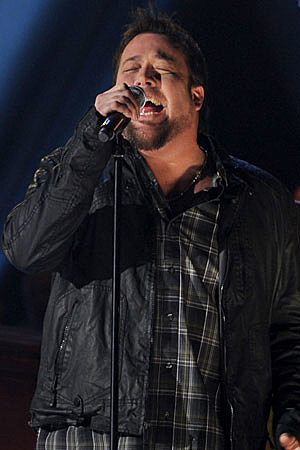 Uncle Kracker will hunker down in Nashville to begin recording his next record before heading out on the road with Kenny Chesney in March.
"I'm kind of excited — actually, the most excited I've been in a long time," Kracker tells Billboard of beginning his upcoming fifth album. He also let on that he's going into the studio with his ducks in a row — the 'Smile' singer has 20-something songs ready to knock out, with a style that is, according to Kracker, "a little more Americana. I don't want to say rootsy, but I think it's more 'me' than the last record was. The overall goal this time was to go in and have fun."
Kracker is making a name for himself around Nashville, especially after his successful collaborative effort with Kid Rock on their duet 'Good to Be Me' from the 2010 EP 'Happy Hour: The South River Road Sessions,' which is nominated for Vocal Event of the Year at the upcoming ACMs.
"It's awesome, but it's definitely a surreal feeling — only because I don't know any other word to describe [it]," he says of his nomination. "But I love it."
Now, it's onto a fifth studio album — but he'll have to churn it out quickly to get out on the road with Chesney, as their tour kicks off March 17 in Florida. Kracker says he's pumped to tour with the 'Out Last Night' singer, who is known for his laid-back attitude. "He's just a great guy and a lot of fun to be around, and I'm a pretty fun person. The last thing you want is to be out on the road with some miserable group, just putzing around. I've been on plenty of tours where there's no interaction between bands at all," he says, adding, "But when you're out with Chesney, all day every day, there's something fun happening."