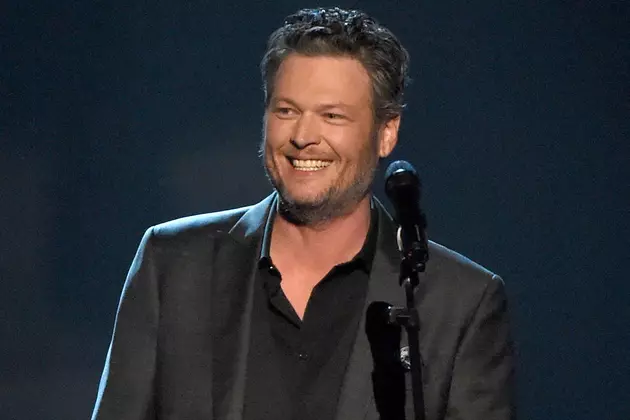 Blake Shelton Buys Miranda Lambert's Pink Pistol Property, Has Plans 'Brewing'
Ethan Miller, Getty Images
"As a resident of Tishomingo I'm very sorry that the Pink Pistol has decided to move its operations out of the area," Shelton tells E! News. "We all, as a community, appreciate everything it has done for our town. As for the actual properties left behind … I was offered the opportunity to buy them, and I have a plan brewing."
When asked on Twitter Wednesday night if he had bought the Pink Pistol store, the country singer clarified, revealing that he has big plans — new plans — for the space.
So what exactly is "brewing" for Shelton? Another fan was quick to respond with some clever insight: "Are you opening Blake's Bar?! You already have the sign!!"
The sign she is referring to is from Gwen Stefani's music video "Make Me Like You," a song which is said to be inspired in part by Shelton. In one scene, Stefani is seen at a bar and the name Blake's is lit in bright blue neon lights. His use of the term "brewing" lends to speculation that a bar could be an option for the now-vacant space.
It's not clear what will happen to Lambert's other Oklahoma ventures, Redemption Ranch, a no-kill dog shelter, and the Ladysmith Bed & Breakfast. Both of these business still operate in Tishomingo, but in a press release from the "Little Red Wagon" singer, it's implied that she plans to someday have all of her ventures based in her Texas hometown of Lindale.
A statement from the star about the closing of Pink Pistol Oklahoma reads as follows:
"I want to send a heartfelt thank you to all the employees who worked hard to help me bring the store in Tishomingo to life, as well as the patrons who came to experience the Pink Pistol and supported the store," Lambert says. "Sometimes you need to close a chapter to build on a new beginning or go back home."
Learn About Blake's Angry Breakup Song 'She's Got a Way With Words'
Every Blake Shelton Single Ranked