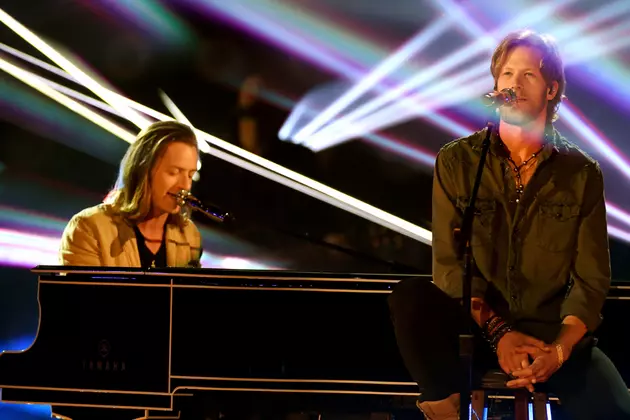 Florida Georgia Line Perform 'H.O.L.Y.,' Win Group/Duo of the Year at ACCAs
Ethan Miller, Getty Images
Florida Georgia Line gave fans the live debut of their brand-new single, "H.O.L.Y.," at the American Country Countdown Awards on Sunday night (May 1), and accepted the award for Duo/Group of the Year.
The superstar contemporary country duo gave a simple, heartfelt rendition of the new song, which is the first taste fans have had of their forthcoming album. As promised, the song is a turn in a decidedly more mature direction for the duo, who have previously been best known for their up-tempo party anthems. They promise the entire album will be a more mature effort.
"It's the perfect evolution," Kelley told Taste of Country at the 2016 ACM Awards. "I think, really honestly, we've tried as best we can to be as transparent as we can with our lyrics and our music and record and write exactly where we're at and then release it."
They took the stage to make a speech after performing.
"This is unreal. I wanna say thanks you again to the fans, thank you to the ACCAs, thank you to Jesus Christ for allowing us to do what we love," Tyler Hubbard said, going on to thank more of the behind-the-scenes team that helps the duo bring their music to the fans. He also thanked the wives that "put up with our craziness."
"We definitely want to thank our wives," Brian Kelley added. "Thank you all for letting us sing to you every night. Thank you for both inspiring us and making us better men. We love both of you all. And our fans, we'll see you on the Dig Your Roots Tour."
See Red Carpet Pics From the 2016 ACCAs
FGL Talk "H.O.L.Y" and Their Next Album
More From Taste of Country