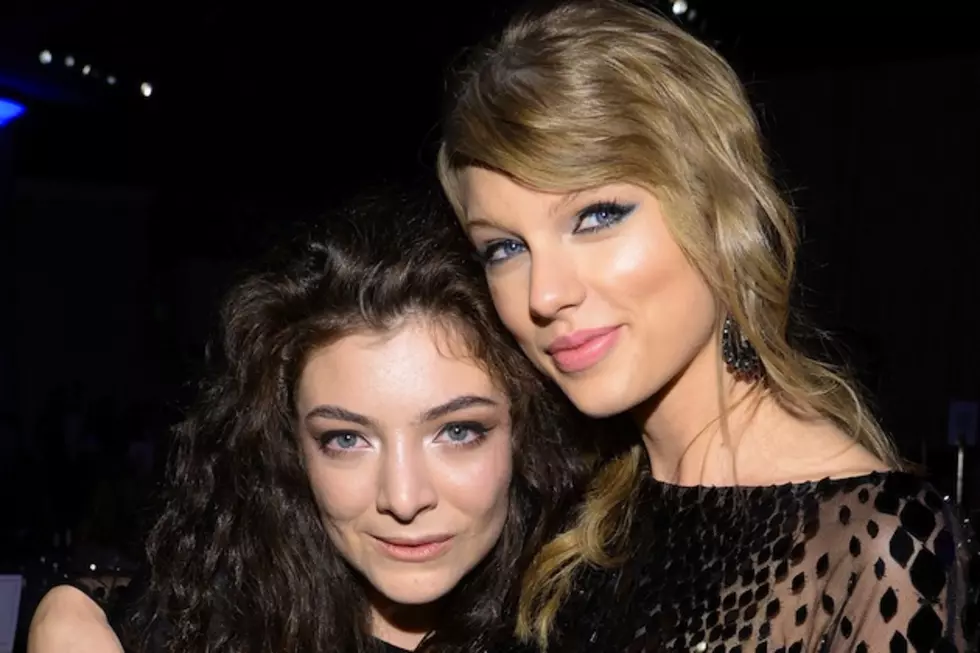 Lorde Relates to Taylor Swift for Their 'Authentic Teenager Experience'
Larry Busacca, Getty Images
At 24, Taylor Swift is no longer a teenager, but she can still tug the heartstrings of teen fans through her music, penned primarily by her own hand. That's why pop sensation and Grammy winner Lorde can relate to the songstress, citing an "authentic teenager experience" as a main reason.
While their music and outward personas differ widely, Lorde admits she resonates strongly with Swift -- the main reason being that she and the 'All Too Well' singer are some of the only young adults left in the industry who share their own personal experiences with others.
"There are very few of us," Lorde tells Rolling Stone. "The other teenagers sing other people's songs, which is fine, but it's not an authentic teenage experience."
Indeed, Swift is known for taking pen to paper when she's experiencing everything from heartache to remorse to happiness, letting her vulnerable words speak loudly through lyrics.
Lorde, who is still very much a teen at 17, is deeply involved in her own songwriting process. "I am really into how words sound out loud, so I was always the kid who would, like, read the page of the book to herself in her room over and over and over," she explains.
That sounds a lot like Swift, who has admitted to being a bit obsessive when it comes to writing songs.
"I'm getting to that point where I'm irritating to be around because I'll be with you for half the conversation and then the second half of the conversation I'm clearly editing the second verse of whatever I'm writing in my head," the 'Red' starlet told the magazine previously.
Even though the two Grammy-winning singers may seem different at first glance, their camaraderie proves that you can't ever judge a book (or two singers) by their cover; they may be more alike than it appears.