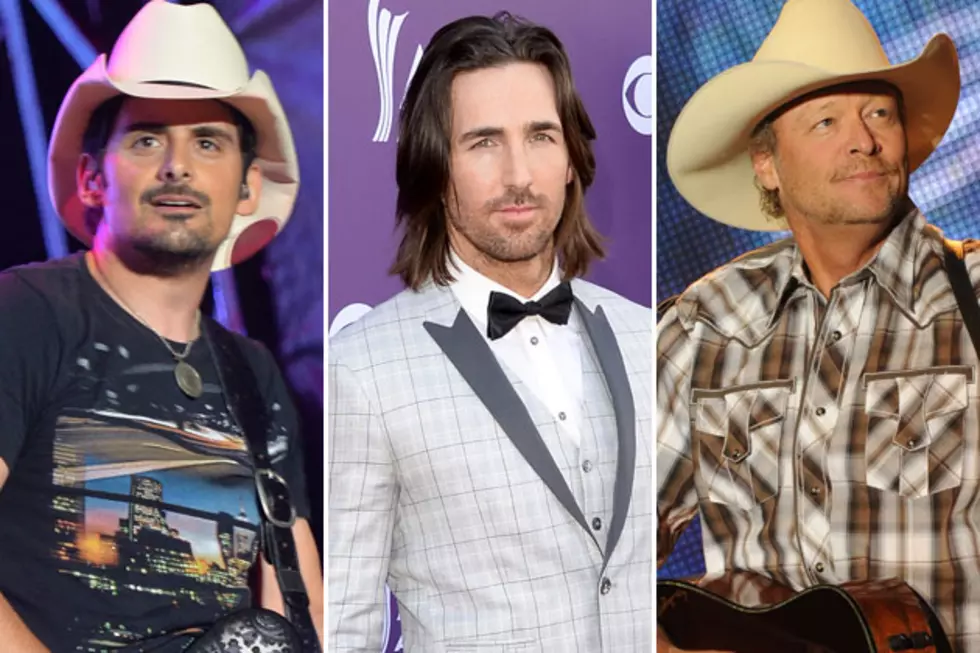 10 Music Videos With Cameos by the Singer's Wife
Rick Diamond (2) / Jason Merritt, Getty Images
Luke Bryan's 'Crash My Party' video features his wife Caroline. It's the first time the singer has cast family in a music video, because the role of his love interest couldn't be played so effectively by anyone else. Bryan joins a long list of singers who've asked their wives to make a cameo appearance -- or star -- in their music videos.
Alan Jackson's wife Denise has done it, as has Brad Paisley's wife -- twice! Rodney Atkins and Jason Aldean squeeze their spouses at the end of music videos, and Jake Owen met his wife after casting her. See 10 cameo appearances by country wives below. Those that carried the entire video were given a bump up the rankings, although Kimberly Williams' adorable minute at the end of 'Little Moments' steals the video.
10

'Farmer's Daughter'

Rodney Atkins and wife Tammy Jo

Tammy Jo shows up at 2:48 in this video. It turns out the singer has married his own 'Farmer's Daughter,' and the dark-haired beauty steps out with sweet tea before going on a leisurely tractor ride with Atkins. Their country love wouldn't last, however, as they divorced in 2012.

9

'Laughed Until We Cried'

Jason Aldean and wife Jessica

It's just coincidence that the first two videos on this list feature marriages that didn't work out. Back in 2007, Aldean and wife Jessica were as happy as could be, and she agreed to make an appearance at the end of 'Laughed Until We Cried.' Aldean's oldest daughter also stars in the video, beginning at about 2:20. It's a sweet family moment that brought many a tear to the eyes of his fans.

8

'Crash My Party'

Luke Bryan and wife Caroline

Two plotlines come to a heartwarming resolution at the end of Luke Bryan's 'Crash My Party' video. Wife Caroline appears from behind a sheer white curtain, and the couple embrace before kissing for the camera. Bryan's smile never seemed more genuine.

7

'I Wouldn't Be a Man'

Josh Turner and wife Jennifer

This is the second of two videos Josh Turner asked his wife to star in. Jennifer has always been active in Turner's career, often singing backup or playing with his band. It's not surprising that a man like Turner would only feel comfortable loving on the woman he committed himself to in front of family and God.

6

'Little Moments'

Brad Paisley and wife Kimberly

Paisley's 2003 'Little Moments' video came months after he wed actress Kimberly Williams. The clip features couples of all ages talking about the sweet -- and maybe embarrassing -- things each partner does. Paisley's song was inspired by his bride, and in the end, she says she never crashed his truck. His response and what happens at 3:59 is precious.

5

'She Won't Be Lonely Long'

Clay Walker and his wife Jessica

Not only is Walker's wife Jessica in this video from 2009, but his horses are, too. He filmed the video for 'She Won't Be Lonely Long' at his ranch in Texas. There isn't a real plot. Walker just films his wife walking around looking beautiful. She owns the part, which is why she ranks high on this list.

4

'Your Man'

Josh Turner and wife Jennifer

Turner's other music video to star Jennifer is 'Your Man,' the singer's career song. One feels the heat of their relationship in this video from 2005. The singer spends one half of the clip signing to her, and the other half making out with her in elevators and hotel rooms.

3

'Eight Second Ride'

Jake Owen and wife Lacey

Jake Owen met Lacey Buchanan during filming of the video for 'Eight Second Ride.' Their onscreen chemistry spilled over into real life, and they ended up married three years later. Buchanan is as sexy as they come in a PG-rated country music video. The scenes of her and the singer wrapping their bodies together in the bed of his truck are enough to heat up a room.

2

'I'm Gonna Miss Her'

Brad Paisley and wife Kimberly Williams

They weren't married here, but Paisley wanted to get to know Kimberly Williams, so he cast her in his music video for 'I'm Gonna Miss Her' -- and it worked! Within a year and a half, the two would wed. The actress performs admirably in this music video, which is one of the best of all time.

1

'Remember When'

Alan Jackson and wife Denise

Alan Jackson and his wife Denise spend most of this video holding each other close. 'Remember When' is one of the top love songs of all time, and the video spoils none of the song's genuine romance. The 2004 clip tops this list because it is such an honest representation of love -- it's like the couple didn't even know the cameras were filming.
More From Taste of Country