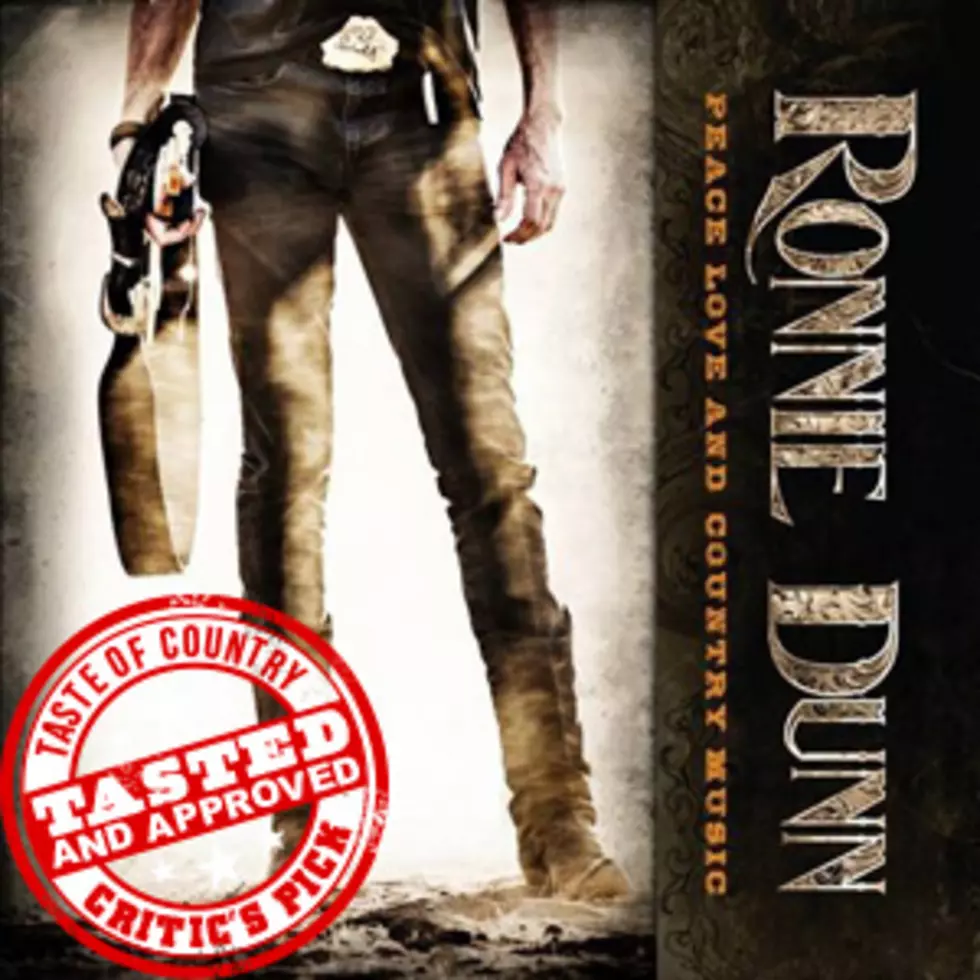 Album Spotlight: Ronnie Dunn, 'Peace Love and Country Music' – ToC Critic's Pick
Little Will-E Records
Ronnie Dunn's first independent album, 'Peace Love and Country Music,' isn't a wild departure from his previous solo album. It's aggressive, but not angry as some may have expected. Perhaps these aren't the adjectives he's looking for, but the disc is reliable, professional and curated to eliminate filler.
Individual songs pack a little more sex appeal. In fact there's more gritty, snarling guitar on this album than you'll find on most of what comes out of Nashville. It's real guitar with licks and solos as mean as a rabid pit bull, not just power chords turned up to 12. 'Thou Shalt Not' is one of two rockers that helps close the album. Close your eyes and imagine the devil dancing around a drum circle during this song about the sins of rock and roll, based on the Ten Commandments. It's the most experimental of the lot.
But it's not the signature song. That would be 'I Wish I Still Smoked Cigarettes,' written by Luke Laird, Lori McKenna and Barry Dean. Dunn's poignant performance mixes familiar nostalgia and heartbreak. He's a master storyteller:
"Wish I still smoked cigarettes / Something to calm my nerves / Wherever you are tonight / You were better than I deserved / Wish I still smoked cigarettes / So I had something to let go up in smoke," he sings to end a track as effective as 'Cost of Livin'' or one of many ballads with Brooks and Dunn.
Other lyrical gems live within 'Grown Damn Man' ("Every line on this face / Has had to fight to earn its place") and 'Country This.' "Everybody's thinking they can put us in a box of grits / Country This," Dunn sings, revealing the chip on his shoulder.
It's the same chip fans frustrated with the genre carry with them. You'll hear it again (in a less audacious form) on 'They Still Play Country Music in Texas,' the next to last track. Those who follow him on Facebook might have expected an entire album full of venom, spat with the wind at corporate radio conglomerates. Fortunately, 'Peace Love and Country Music' is not a giant "F-U" to anyone. He didn't sacrifice art to make a point.
It's reliable. Dunn's made a lot of records, so maybe it should be no surprise that he's crafted an album with nothing to skip through. Each song stands out from the rest, yet none fail at fitting in. New artists could go to school on him, and many should.
Key Tracks: 'Grown Damn Man,' 'I Wish I Still Smoked Cigarettes,' 'You Don't Know Me,' 'Kiss You There'
Well Covered: Dunn's version of 'You Don't Know Me' stands out, even amongst the many, many versions of the well-known song. Eddy Arnold and Ray Charles are two who cut it previously.
Did You Know?: Luke Laird wrote 'I Wish I Still Smoked Cigarettes.' The now-famous songwriter was just a student at Belmont when Dunn met him, through his daughter. The two dated!
More From Taste of Country