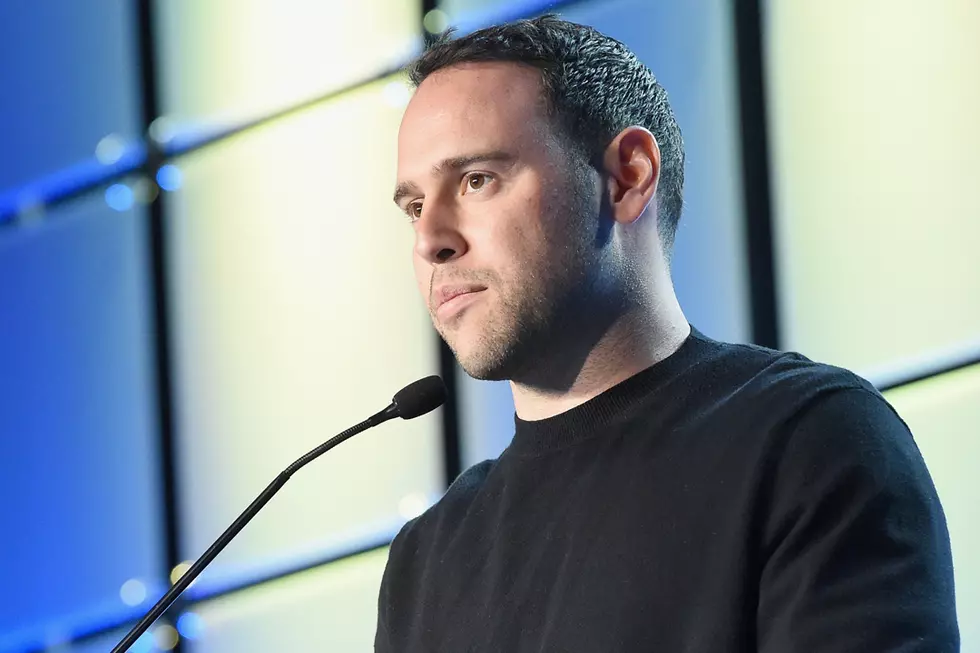 Manager Scooter Braun Calls on Nashville to 'Be on the Right Side of History' in Gun Control Debate
Rick Diamond, Getty Images
Prominent artist manager Scooter Braun is calling on Nashville and the country music community to join with those who are calling for common sense gun legislation, saying, "This town can make a difference."
Braun was in Nashville to accept the Harry Chapin Memorial Humanitarian Award at the Music Biz 2018 conference in Nashville on Thursday (May 17). The award recognized his charity work, which included organizing the One Love Manchester benefit concert following a suicide bombing at an Ariana Grande concert in 2017 (Grande and Justin Bieber are among Braun's clients).
According to Billboard, during a keynote interview he gave to former Humanitarian Award recipient, former RIAA CEO and political commentator Hilary Rosen, Braun did not hesitate to speak up about gun control, saying, "I am not afraid to have this conversation and I like it happening here in Nashville."
Braun noted that many in the Nashville music community were nervous about speaking out or joining in any gun control efforts after the deadly mass shooting at the Route 91 Harvest Festival and the Parkland school shooting. He pointed out that if you speak to young people in colleges across the country, it's clear that when they are running the country, this issue will change. He believes we shouldn't have to wait until then.
These Are the Faces and Stories of the Las Vegas Victims
"What I am asking is for the entire community to step up," Braun implored. "This town can make a difference... If you go down and ask the kids at the university what are they going to do, you would know that this is your chance to be on the right side of history."
He compared common sense gun control measures to the kinds of routine checks we already have in place to qualify to operate an automobile.
"I am a gun owner and I have no issues with anyone owning guns or driving cars," he said. "I think we should be qualified for both. I haven't met one artist or friend who owns guns who doesn't agree with me. This issue is not about taking away guns. It's about making sure that those who have guns are qualified."
On Friday (May 18), one day after Braun's remarks, eight students and two teachers were killed in a mass shooting at Santa Fe High School in Santa Fe, Texas. It is the latest in a long string of school shootings that have struck America in recent years.
Las Vegas Survivors Share Incredible Memorial Tattoos
More From Taste of Country