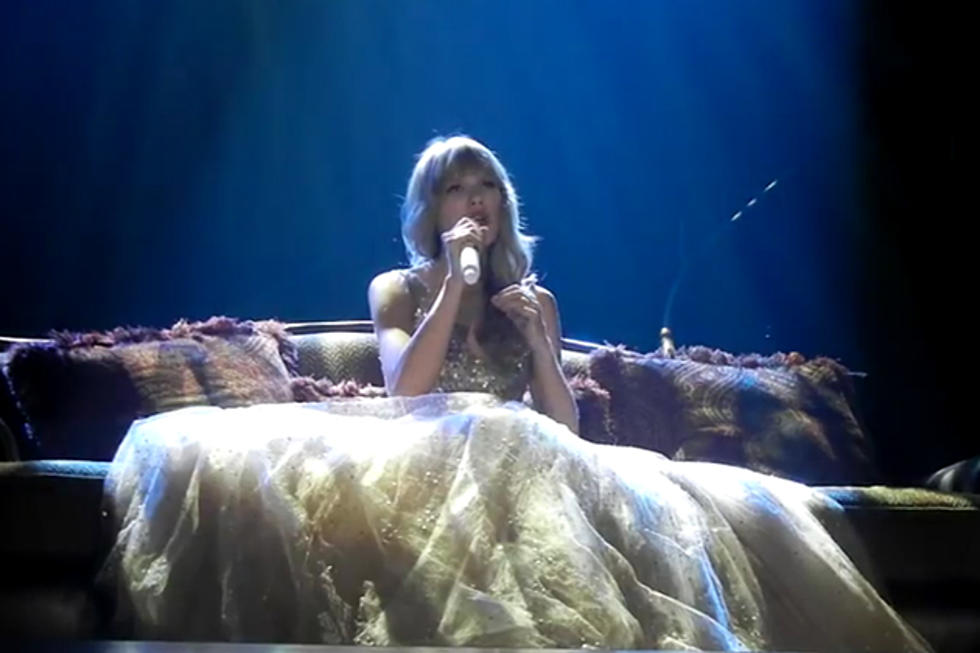 Taylor Swift Performs 'Safe and Sound' Live in Australia
Taylor Swift is finishing out her Speak Now World Tour in Australia and New Zealand, and she just played two nights at the Brisbane Entertainment Centre (March 6 and 7) to an ecstatic crowd. There, Swift broke out her 'Hunger Games' hit 'Safe and Sound' for the first time ever as a solo performance. Though the pop-country songstress officially debuted the song at the Ryman with vintage Americana duo the Civil Wars back in January, this was the first time she stood alone without the accompaniment of her co-writers.
Sitting on a couch onstage in a sparkling, floor-length gown slightly reminiscent of Belle from 'Beauty and the Beast,' Swift gently started into the song to the immediate cheers of the recognizing audience. With a spray of yellow tulle fanning around her, she took the song with a whimsical air and gave it all the mystique you would expect from the haunting ballad.
The song is the first single from the hyped new film, which hits theaters everywhere March 23. Swift has already released a music video for the song -- a bleakly beautiful, almost colorless video which shows her walking through the woods, sitting on an old tombstone and roaming through what looks like a post-apocalyptic world.
The multi-Grammy Award-winner has been pushing her roots into new soil with this huge movie single, a recent cover on Vogue and on Australia's version of Harper's Bazaar, as well as an appearance as the voice of Audrey in the newly released Dr. Seuss film 'The Lorax.'
Rounding out her tour Down Under, Swift is set to play shows in Sydney tonight (March 9) and tomorrow before heading to Melbourne and Auckland next week. This week, she celebrated her 100th show on the Speak Now World Tour at the the Adelaide Entertainment Centre in Australia.
Watch Taylor Swift Perform 'Safe and Sound' Live in Australia