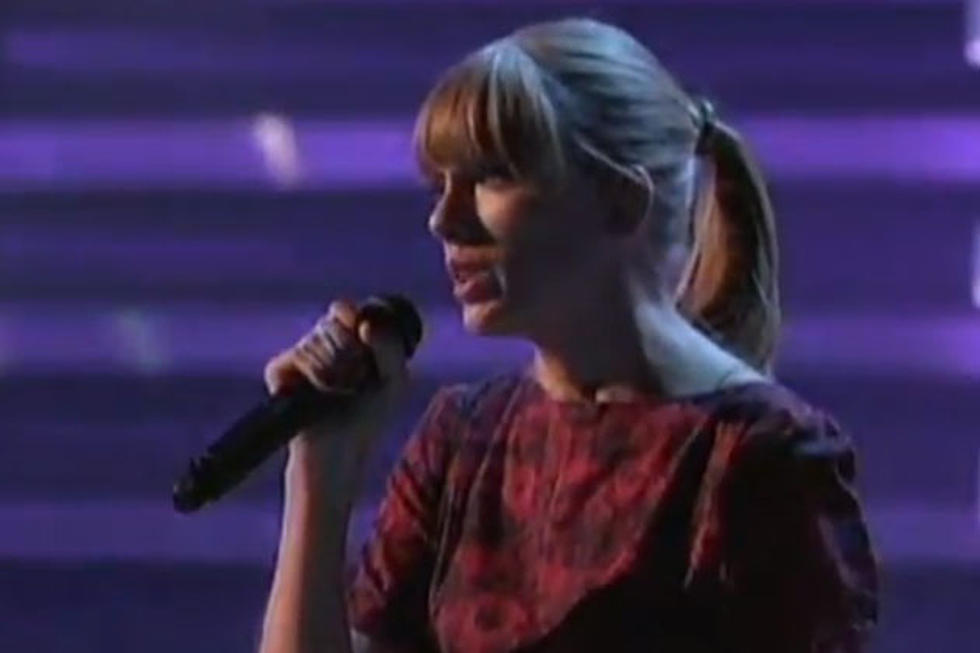 Taylor Swift's 'Ronan,' Tim McGraw's 'Live Like You Were Dying' Highlight Emotional 'Stand Up to Cancer' Telethon
Taylor Swift's 'Ronan' and Tim McGraw's 'Live Like Your Were Dying' were two of the select songs performed during the 'Stand Up to Cancer' special on all major television networks Friday night. Both country stars were clearly moved by the overwhelmingly emotional hour of television. Both sang bittersweet notes in an effort to get viewers to stand up to cancer.
Swift's 'Ronan' was written about 4-year-old Ronan Thompson, who died in 2011 after battling neuroblastoma. The singer appeared on stage looking as if she'd already shed a few tears in the show's first 25 minutes. 'Ronan' was a co-write with Maya Thompson, Ronan's mother.
"I remember your bare feet down the hallway ... I love you to the moon and back," Swift sang to open the song, backed gently by her band on stage at the Shrine Auditorium in Los Angeles, Calif. Later, she drew tears with lines like, "You fought it hard like an Army guy" and "It's about to be Halloween / You could be anything you wanted if you were still here."
"Come on baby we're gonna fly away from here / You were my best four years."
It was clear Swift was just the voice for Maya Thompson, who passionately blogged about how Swift helped her get through her son's death. Immediately following her performance, 'Ronan' went on sale at iTunes with all proceeds going to cancer-related charities.
McGraw closed the show singing his hit song, written about his father Tug McGraw who died of cancer in 2004. He delivered the take-your-breath-away moment with a song that still inspires as much today as it did eight years ago. He too looked as if he'd been crying during the night's video vignettes.
Donations are being accepted at the Stand Up 2 Cancer website. Dozens of celebrities like Ray Ramona, Seth Rogan, Gwyneth Paltrow, Tom Hanks, Samuel L. Jackson and Sofia Vergara shared stories of how cancer affected their lives. Cancer survivors and patients from around the world were in the live audience. Many shared their battles, while others were remembered in heartbreakingly beautiful video montages.
Watch Taylor Swift Perform 'Ronan' at the 'Stand Up to Cancer' Telethon
More From Taste of Country