Carrie Underwood Banned by Radio Station Over Hockey Trade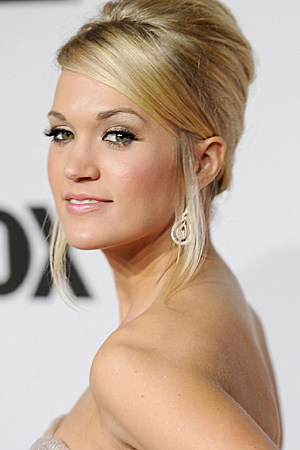 Carrie Underwood's new hubby and hockey player, Mike Fisher, was recently traded from the Ottawa Senators to Nashville's own Predators, giving the singer the benefit of continuing country music in Nashville with her husband by her side. However, Canada is not all that thrilled with the former 'American Idol' star.
105.3 KISS FM out of Ottawa, Canada has decided to ban playing Underwood's songs because of the trade. According to Country Standard Time, KISS FM radio station Program Director Gayle Zarbatany says the "decision" to ban Underwood was made "when we heard Mike Fisher had been traded."
But Zarbatany remarks that while Underwood's music had been played on the station in the past, in recent years they stopped playing her music due to the fact they are not a country music format station.
"Here's the deal," Zarbatany says, "The reaction we're getting is mainly outside of Ottawa because they don't know our radio station. We're a Lady Gaga, Black Eyed Peas, Katy Perry, Ke$ha, Pink station. The reaction has been massive, and most people when they find out we don't play her, get the tongue-in-cheek. We [thought we] got to have some fun with this tongue-in-cheek. How can we have some fun with Mike Fisher leaving?"
"I never said I'm taking her off the air," she continues. "It's our tongue-in-cheek way of saying, 'We're going to miss you, Mike.' She's taking him away from us. We wish him well."