Carrie Underwood's Husband Opens Up About Faith in New Book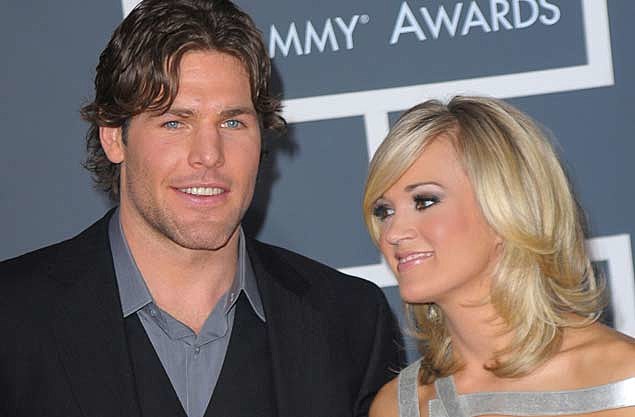 Country music fans are familiar with Nashville Predators centerman Mike Fisher, since he is Carrie Underwood's husband. There are many other layers to Underwood's man beyond his skills on the ice. Case in point: He is releasing a book, 'Defender of the Faith,' next month. Fisher spoke at length to Belief.net about how his rock solid faith keeps him grounded and positive.
No wonder Underwood, also know for her strong Christian faith, is so enamored of her hubby. He is in touch with his spiritual side and is happy to discuss it so that it might inspire or help others. Whether or not you actually share Fisher's beliefs is of little consequence. The fact that he is so focused and strong in those beliefs is admirable.
On why he wrote 'Defender of the Faith': "I've always enjoyed working with kids, whether it be hockey school, things like that, and I just thought it would kind of be neat to start there with a book for kids. I think kids need role models. I needed role models when I was growing up and I ran into a lot of different people and that's what helped me. And I thought, why not? I'd like to help some other kids if possible."

On when he became a Christian: "I gave my heart to the Lord when I was 6-years-old. It's very young but I still remember that day and it was very significant. Me and my mom just started praying and I remember saying I wanted a relationship with Jesus. And I wanted to live that way. And I would say there are ups and downs on this journey, and I learned a lot going away and playing junior [hockey]. I've made mistakes along the way, but through it all, I think God really showed his grace and showed his face. I think we're all kind of a little like the Prodigal Son. Real and true happiness is having a relationship with God and not what makes us happy."

On having faith in a competitive sport like hockey: "I think being a Christian in NHL has come a long way. We had a guy [Larry] that led our chapel in Ottawa for years, and he was under so much scrutiny back in the '80s because he was a believer. He was one of the first believers to kind of tell everyone about his faith and let people know and that was really kind of odd in the hockey world back then which is sad. He got a lot of grief from some of the owners and management. And hockey ministries, HMI, has done really good work and gotten chapels — I think it's close to half of the teams right now that have optional chapels for guys that can go and learn with the Lord and so that's exciting. So it has come a long way."
His advice when it comes to faith: "Keep God in the center at all times because if he's in the center of everything, everything else just falls into place. And it doesn't mean it's easy but he helps you along the way."