Eli Young Band, 'Dust' [Listen]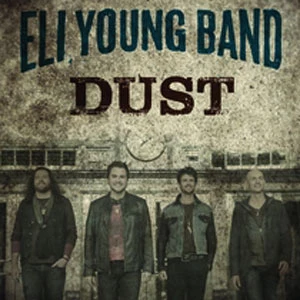 The Eli Young Band guys are sticking with what works — to an extent. Their new single 'Dust' is a story of chasing one's dream against all odds and obstacles, but it's not to be confused with 'Even if It Breaks Your Heart.' Sonically, the two tracks couldn't be more different.
Singer Mike Eli's introspective tone is the same on both, but 'Dust' is layered with thick guitars and heavy drums and bass. It rocks like they've never rocked on radio before.
"She's sick of this town / She's sick of that boy / She's sick of dreams that never take flight / There's gotta be more than the old stories / So she's gonna turn the page tonight," Eli sings after an introduction that includes an edgy guitar solo.
The group has promised an album that's more fun and not quite as heavy as 'Life at Best.' Fans worried they were going to turn in a bunch of bubblegum pop-country songs can probably relax. 'Dust' is fun, but not at the expense of poignancy.
The chorus goes:
"She got the pedal to the floor in a hand-me-down Ford / Yeah the only thing that's left to do / Is catch a couple green lights and those baby blue eyes will leave nothing in their rear view / But dust, nothin' but dust."
The few splashes of bright color work well in breaking up the dust of 'Dust,' but in truth, the guitar work and rhythm section are equally effective at making sure this song sticks. Eli's vocals are melodic, but not quite an ear worm. Like some of the group's most successful singles, this second single from '10,000 Towns' is built to be a slow burn.
Why Fans Will Love It: 'Dust' is Eli Young Band's loudest and most uptempo single to date. It's good to hear them rock out a little bit.
Key Lyrics: "She got the pedal to the floor in a hand-me-down Ford / Yeah the only thing that's left to do / Is catch a couple green lights and those baby blue eyes will leave nothing in their rear view / But dust"
Did You Know?: The band calls the Kenny Chesney tour their best road experience ever, especially when they looked over and saw NASCAR driver Danica Patrick bobbing along to their hit song 'Always the Love Songs.'
Listen to Eli Young Band, 'Dust'
Audio clip: Adobe Flash Player (version 9 or above) is required to play this audio clip. Download the latest version here. You also need to have JavaScript enabled in your browser.