Eric Church Finally Finds His Niche, Wins Album of the Year Award at 2012 CMAs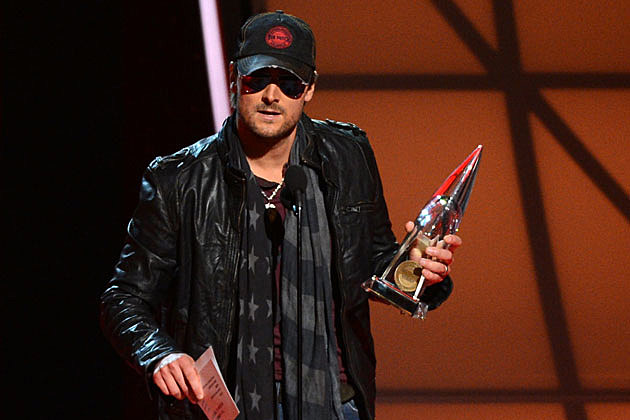 Upon hearing his name read as Album of the Year winner at the 2012 CMA Awards on Thursday night (Nov. 1), Eric Church stood up, looked around, gave his wife a big hug and tried to figure out where to go. After all, his win for 'Chief' is his first-ever CMA after seven long years trying to figure out where he fit in. 
Sugarland presented the honor. Jennifer Nettles responded to earlier jokes about her pregnancy — Brad Paisley said he, Carrie Underwood and a team of expert doctors (including Little Jimmy Dickens) would induce if she wanted. At this point in the show, she's still with baby (and glowing).
Church was likely also glowing beneath his trademark dark sunglasses and baseball cap. "I spent a lot of time trying to figure out where I fit in. Too country, too rock …" he said fighting emotions and using the CMA winner envelope to make his points. "I wanna thank you guys for giving me somewhere to hang my hat tonight."
Also nominated were Miranda Lambert's 'Four the Record,' Lady Antebellum's 'Own the Night,' Luke Bryan's 'Tailgates and Tanlines' and Dierks Bentley's 'Home.'