Top 10 Graduation Songs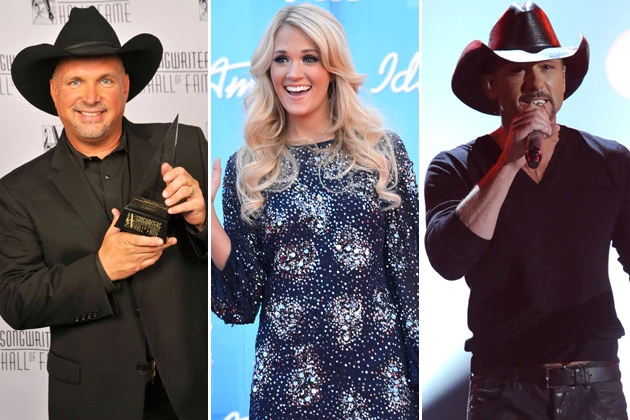 Millions of American high schoolers and college grads will be walking across the graduation stage to the familiar sounds of 'Pomp and Circumstance' soon, but we feel like country fans can do better this graduation season. Is there a song that you think is amongst the all-time top graduations songs? Famous songs by
Tim McGraw
and
Garth Brooks
made our list of the Top 10 Graduation Songs, but neither singer has the No. 1 song.
Most of these hits celebrate the graduate's journey, but a few — like ballads by Carrie Underwood, Trace Adkins and Billy Ray Cyrus — adequately represent what parents go through as they watch their sons and daughters accept their diplomas, shake hands with the principal and then turn to the crowd and shout "Class of 2012 Trojans forever!" Find out the No. 1 song on our Top 10 Graduation Songs list and leave your thoughts and opinions on the best grad tunes in the comments section below.
Disney
'Ready, Set, Don't Go'
Billy Ray Cyrus Feat. Miley Cyrus
This ballad from 2007 was on Cyrus' 'Home at Last' album. It's a song he wrote about Miley shortly before she was to head to Los Angeles to begin filming 'Hannah Montana.' "This is where you don't say what you want so bad to say / This is where I want to but I won't get in the way of her and her dreams / And spreading her wings," the father sings, explaining the complex mix of emotions a parent feels watching his or her son or daughter move on. While it wasn't a huge hit on country radio, the lyrical content and Billy Ray's sincerity earn it a spot on the Top 10 Graduation Songs list.
BNA Nashville
Kenny Chesney fans often point to this ballad when talking about the best Chesney songs of all time. The singer provides graduates with an inspiring speech in about one-quarter of the time as their official commencement speaker. "Trust me friend a hundred years goes faster than you think / So don't blink," he sings. The fact that it's only No. 9 on the list of the Top 10 Graduation Songs speaks to the power of the next eight hits.
Arista Nashville
'Don't Forget to Remember Me'
Carrie Underwood's contribution to the Top 10 Graduation Songs list is a ballad that tells the story of life after graduation. Her character is just 18-years-old when she leaves home, the age when one rolls their eyes at Mom's advice. Throughout the song, the story flips, however, and it's the girl who's reminding her mother to 'Don't Forget to Remember Me.' There's a lesson at both ends for graduates and celebrating parents.
Arista Nashville
This Grammy Award-winning hit for Brad Paisley combines his sense of humor with his penchant for writing sweet, endearing ballads. It's amongst the all-time great Brad Paisley songs, with a humorous message that reminds everyone to slow down in the drive through life. Strangely, separate songs on the Top 10 Graduation Songs list remind one to slow down and speed up. It's important to strike a balance.
Capitol Nashville
At first, Trace Adkins' inclusion in the Top 10 Graduation Songs list feels like one for the parents of the graduate, but a closer listen reveals that there's a lesson for eager young adults as well. Appreciate life's ups and downs, one at a time. Today's struggles may become tomorrow's daydreams. "These are some good times / So take a good look around / You may not know it now / But you're gonna miss this," he sings.
Monument Records
While many of the Top 10 Graduation songs are wrapped in metaphor and symbolism, the Dixie Chicks hit from 1998 is a simple, easy to understand and inspiring tale of a woman ready to find her way in this world. "She needs wide open spaces / Room to make her big mistakes / She needs new faces / She knows the high stakes," they sing. That's pretty much a mission statement for high school and college graduates alike.
Lyric Street Records
This 2006 hit from Rascal Flatts spells out the message parents want to leave their young graduate with. "My wish, for you, is that this life becomes all that you want it to / Your dreams stay big, and your worries stay small / You never need to carry more than you can hold," they sing. Song No. 4 on the Top 10 Graduation Songs list is one that is commonly found in graduation ceremonies nationwide.
'Live Like You Were Dying'
Much like Kenny Chesney's 'Don't Blink,' Tim McGraw's 'Live Like You Were Dying' is a reminder to make the most of every day you have, because you never know which day is your last. The 2004 hit — inspired by the death of the singer's father — is emotional and inspiring. It's the perfect song to set graduates toward the next stage of life, and an obvious choice for the Top 10 Graduation Songs list.
Capitol Nashville
"This is what happens when two dreamers get together and write from the heart," Garth Brooks said about Song No. 2 on the Top 10 Graduation Songs list. 'The River' is a story of inspiration wrapped in an almost poetic lyric. "Yes, I will sail my vessel / 'Til the river runs dry / Like a bird upon the wind / These waters are my sky / I'll never reach my destination / If I never try / So I will sail my vessel / 'Til the river runs dry," Brooks sings. This song was almost universally applauded, and very much lives on almost 20 years after its release.
MCA Nashville
Lee Ann Womack's signature song is the No. 1 song on the Top 10 Graduation Songs list because of its powerful lyrics and overwhelming commercial success. No song found more ears since its release than 'I Hope You Dance,' a song that almost seems written for the high school graduate. From the very first note, she inspires. "I hope you never lose your sense of wonder / You get your fill to eat / But always keep that hunger / May you never take one single breath for granted," Womack sings. If you're putting together a graduation playlist, this hit from 2000 is a great place to start.