Hank Williams, Jr. – Most Political Country Singers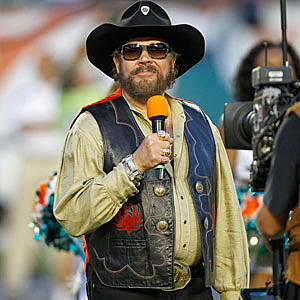 Hank Williams, Jr. isn't shy about telling people what he thinks of the current President. "We've got a Muslim president who hates farming, hates the military, hates the U.S., and we hate him!" he said on stage in August. However, he's long been a champion of Republican causes, donating $4,500 between 1992 and 2007.
He's also turned some of his most famous songs into titles that support Republican candidates. 'We Are Young Country' became 'This Is Bush-Cheney Country' in 2000, and 'Family Tradition' became 'McCain-Palin Tradition' in 2008. Bocephus has been mostly quiet about politics on Twitter in recent months, however, choosing instead to focus on his music.