Top 5 Kacey Musgraves Songs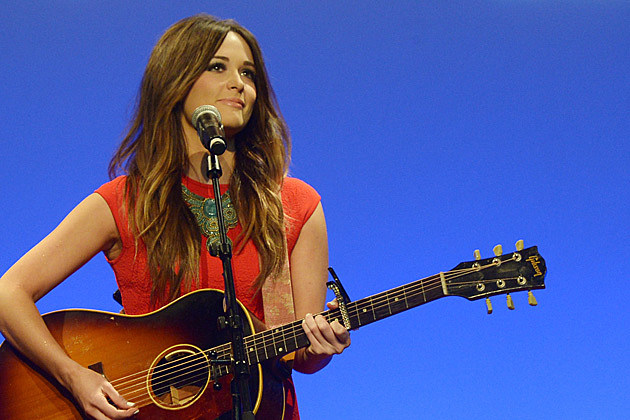 Kacey Musgraves' songs are a breath of fresh air to the modern country music scene. Skillful songwriting is evident in every track on her debut album, Same Trailer, Different Park, and its follow-up, Pageant Material.  She shines both lyrically and musically, and the largely stripped-down production lets the songs shine through without any distractions.
Musgraves' style is one part quirky, one part sincere personal experience and one part social commentary. Her songs don't try to hide behind vague metaphors or walls of synthesized sound. It's nearly always clear what Musgraves is trying to say. Though some are more lighthearted than others, all of Musgraves' songs are unique and artful, making it difficult to narrow down to her five best. But we've tried!
"Blowin' Smoke"
From 'Same Trailer, Different Park' (2013)
A gritty, rock-infused country track, "Blowin' Smoke" takes a well-known phrase and turns it on its head, in true Musgraves fashion, skewing it toward both the figurative and literal meanings at the same time. The song tells the story of women who work in a diner, stuck in a rut with dreams of breaking free but never actually taking the leap. Gang vocals join in on the chorus and bridge, turning the lyrics into a sort of ironic anthem. The clever lyrics call it like it is, putting a somewhat darkly-humorous air over a bleak situation. "Blowin' Smoke" was released as the second single from Same Trailer, Different Park, and while it wasn't a No. 1 hit, it introduced the world to Musgraves and showcases her unique style and talent, earning it a spot in our Top 5 Kacey Musgraves Songs list.
"Biscuits"
From 'Pageant Material' (2015)
Written by the same writing team and as part of the same session as "Follow Your Arrow," "Biscuits" is musically similar, while lyrically it's a bit less challenging. The lead single from Musgraves' sophomore Pageant Material album reminds listeners to "mind your own biscuits and life will be gravy."
"Silver Lining'"
From 'Same Trailer, Different Park' (2013)
Kicking off Same Trailer, Different Park is "Silver Lining," a life lesson wrapped in a folky mid-tempo tune. The song begins with a somber vibe, as the verses depict that dejected feeling we all get when nothing seems to be going right. Musgraves shows off her songwriting skills with smart twists on cliches, breaking into a more uplifting chorus which explains that if you want to achieve something great or do something worthwhile, you often have to persevere through hard times. They're occupational hazards, like rain from a silver-lined cloud or bees surrounding honey. "Silver Lining" is a perfect introduction to the rest of Musgraves' debut album and proves her songwriting prowess from the first line.
"Follow Your Arrow"
From 'Same Trailer, Different Park' (2013)
Perhaps Musgraves' most well-known hit, "Follow Your Arrow" is a bold, quirky statement about casting off what other people think and staying true to yourself. The singer-songwriter has become known for her unabashed lyrics, and "Follow Your Arrow" is chock-full of them. While the song may have drawn a bit of controversy from more conservative listeners, it was largely welcomed with open arms as an encouragement for people to be who they are. Billboard ranked Musgraves' third single from her mainstream debut as No. 2 on their list of the 20 Best Songs of 2013, and it reached No. 10 on the Hot Country charts.
"Merry Go 'Round"
'Same Trailer, Different Park' (2013)
Musgraves paints a beautifully sad picture of a small town community in "Merry Go 'Round," a ballad she co-wrote with Shane McAnnally and Josh Osborne. The song features a rolling banjo and piano hook, framing the rather blunt lyrics with a soft, laid-back resignation. It's a story most people from a small town can relate to — the cyclical pace of life, the addictions, the settling for what has always been rather than pursuing a better future. "Merry Go 'Round" isn't exactly a lighthearted tune, but the combination of its raw truth and skillful musicality resonates with listeners on a deeper level. The song was released as the lead single from her debut album Same Trailer, Different Park and won a Grammy for Best Country Song in 2014. Is there any question that it's the best of Kacey Musgraves' songs?