Lauren Alaina: 'I Want to Write With Taylor Swift'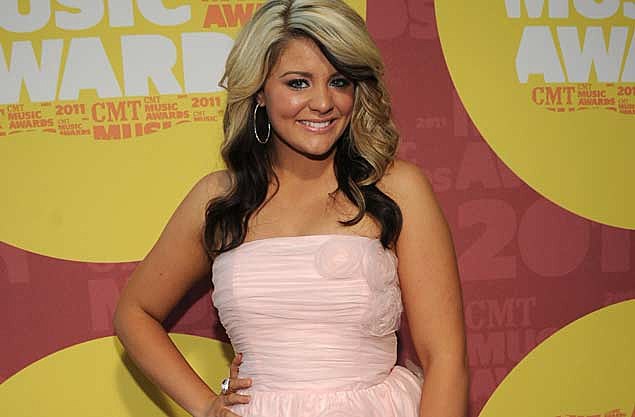 Lauren Alaina is doing so much post-'American Idol' media coverage that you might think she actually won, instead of placing second to Scotty McCreery on Season 10. The Boot chatted with the pretty blonde singer, unearthing the story behind the first song that the 16-year-old ever wrote and her dream collaborator. It's not Scotty — it's Taylor Swift!
"My uncle's wife had a car wreck and was in the hospital, so I wrote a song and sang it to her," Alaina said about the first tune she ever penned. "My mom keeps them all, and my handwriting was horrible! You can tell I was a little kid." Handwriting aside, it is a sweet, sensitive sentiment for Alaina to have authored a song for her ailing aunt.
Alaina say she still writes as much as she can, but with her hectic schedule during the 'Idol' aftermath, including the upcoming tour that kicks off on July 6, she isn't writing as much as she'd like.
"I've got to get back into it," the teen acknowledged. "I want to write with Taylor Swift, but I think that's kind of impossible." Alaina also namechecked fellow blonde females Miranda Lambert and Carrie Underwood as country stars she'd like to collaborate with. "I like that they're singers and writers, too … I just want to meet those people," Alaina said. All in due time, Lauren. All in due time.
The singer is currently sifting through songs, as well navigating the policies and procedures that come with signing to a record label. She is plowing through demos, which she finds to be a somewhat pleasant experience, especially when the songs tell good stories. "A few of them I'm really excited about," the singer said. "Country music's really good about telling a story, so I want songs that tell good stories where people can say, 'That happened to me!'"
Alaina hopes that some of the songs that she writes herself will make it on her debut. "We're still in the process of figuring things out," she admitted, not giving up too much information. "If I could do some of my songs, that would be cool. But I have to do whatever is best for my album."
Watch Lauren Alaina Sing 'Like My Mother Does' on 'American Idol'