Shania Twain, 'Today Is Your Day' – Lyrics Uncovered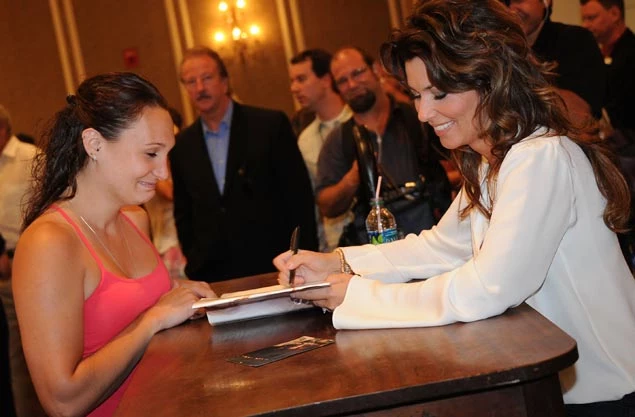 'Today Is Your Day' is the song Shania Twain fans were never supposed to hear. The superstar admits she had no intention of recording music at the end of her OWN series, 'Why Not? With Shania Twain.' "I was petrified of even going there and sharing new music with the public," Twain says in an interview released by her record label.
Twain was writing along her journey, and as her confidence began to build a little with each episode she began to reconsider releasing the track. "It became a bit of a cheerleader. Just an optimistic arm around my shoulder saying 'You can do this,'" she reveals.
The song begins, "You got what it takes you can win / Today is your day to begin / Don't give up here, don't you quit / The moment is now, this is it."
"That song was me living what I was preaching to myself, literally every day," the singer adds. Recording with Lionel Richie was something else Twain would not have let happen before the series began this spring. "I'm like, 'There's no way I can do that, I'm way too insecure vocally,' to sing in front of another celebrity." However, fans watched as Richie pulled Twain out of her shell and inspired a beautiful performance. Twain admits she was terrified throughout the whole ordeal."It was quite challenging filming the series," she says. "I did a lot of things that were uncomfortable and embarrassing, and I wanted to stick to it."
"Today is your day / And nothing can stand in your way / Today is your day / Everything's goin' your way," Twain sings.

Fans will have to wait until 2012 to see the singer perform live, as she's beginning a residency in Las Vegas at that time, though Twain's name continues to be batted around as a replacement for Jennifer Lopez on 'American Idol' should Lopez decide not to return next season. All of these commitments are sure to bring new stress to Twain's life, and perhaps even sour her mood. At least now she has a quick pick-me-up to call upon: "When I wanna' cheer myself up I just put that song on."
Watch the Shania Twain 'Today Is Your Day' Video