Taylor Swift and Justin Bieber Share the Stage for 'Baby' Duet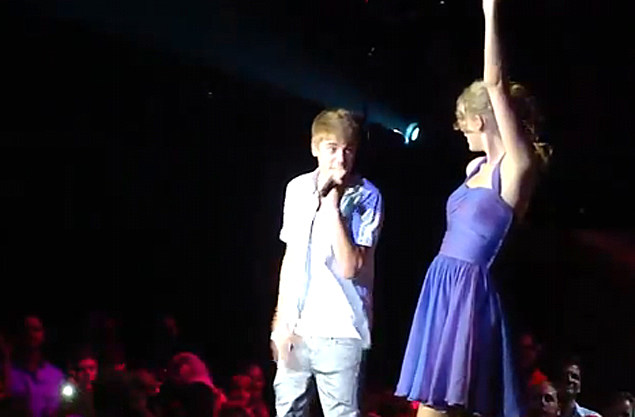 Fans at Tuesday night's Taylor Swift show in Los Angeles got a double-whammy of goodness when pop superstar Justin Bieber showed up to perform his smash hit, 'Baby,' as a duet with the 'Mean' singer. As expected, the Staples Center erupted in shrieks and shrills when the 17-year-old heartthrob hit the stage alongside Swift, and the pair could hardly be heard over the excited fans.
Swift and Bieber exchanged lines on the 2010 chart-topping hit, taking turns singing the breakup tune to one another. When Bieber took the mic to show off his rap skills mid-way, Swift accompanied him with some backup harmony. By the final chorus, all of L.A. was singing along, and Bieber made sure to give his pop-country friend a big bear hug before leaving the stage.
Following the show, Swift tweeted to her 7.6 million followers about the experience. "You think you've heard LOUD screaming in your life.. Then @justinbieber comes out and does a surprise song during your show. Woah. Unreal," she said. Bieber responded quickly to suggest that they duet on his single again soon. He tweeted, "@taylorswift13 we should do that more often. : ) great show! #muchlove."
Watch Taylor Swift and Justin Bieber Sing 'Baby'