Top 10 Trace Adkins Songs
Ethan Miller, Getty Images
Trace Adkins' songs come from the eight studio albums and three greatest hits packages he's released since he first escaped the offshore Louisiana oil rigs in 1996. The common trend is for an artist to reach his or her peak during the third or fourth album and then fight to maintain a spot amongst the country music heavy-hitters until deciding to slow down. Adkins has been something of a late bloomer, however. While he scored four Top 5 hits early on, he cooled off until releasing 'Comin' On Strong,' his sixth studio album, in 2003.
Seven of the songs on this Top 10 Trace Adkins songs list come from that album or projects released later in the big man's career. Now into his 50s, he's competing for radio space alongside men and women half his age, but — as his regular spot hosting the ACA Awards indicates — he is still a credible voice for the country audience. Like all great country singers, he manages to reach out to fans of all ages and backgrounds. If you don't like the No. 1 song on this list, you probably love the No. 2 song, and vice versa.
'Just Fishin''
From 'Proud to Be Here' (2011)
This hit from Adkins is the most recently released song on our Top 10 Trace Adkins Songs list. It's a story of a dad spending quality time with his little girl, something the singer is very familiar with. He's a father of five daughters, and he chose to include his youngest, Trinity, in the too cute music video. 'Just Fishin'' was nominated in the Best Country Song category for the 54th Grammy Awards.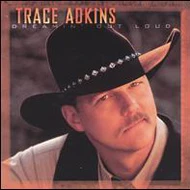 '(This Ain't) No Thinkin' Thing'
From 'Dreamin' Out Loud' (1996)
This 1997 hit was Adkins' first chart-topper. It's not the oldest song on the Top 10 Trace Adkins Songs list, but it comes from what one could view as Act One of his career. In the late '90s, he was as hot as any newcomer could be, but his star faded until 2002. It's probably not a coincidence that he caught fire again after entering an alcohol rehabilitation program around this time and that his most successful days came after he dealt with those demons.

'Songs About Me'
From 'Songs About Me' (2005)
This Shayne Smith and Ed Hill penned rocker served as a mid-decade anthem for country music fans nationwide. The song finds a way to sum up everything great about country music without coming across as trite or hackneyed. 'Songs About Me' was the title track to an album that includes three songs on our Top 10 Trace Adkins Songs list and several others that fans begged to be released to radio. The song reached No. 2 on the Billboard charts in 2005.

'Then They Do'
From 'Greatest Hits Collection, Vol. 1'
Upon its release, this Top 10 hit felt like a career song for Adkins, but despite moving lyrics and an emotional performance, it never quite blossomed into the commercial success some had thought it would. The 2003 hit is still amongst the all-time great remembrance songs, perhaps only topped in recent years by Alan Jackson's 'Remember When.' With the exception of 'Arlington,' Adkins wouldn't release another emotionally driven song like this until 2006.

'Ladies Love Country Boys'
From 'Dangerous Man' (2006)
Ten years passed between No. 1 hit songs for Trace Adkins. 'Ladies Love Country Boys' topped the charts in 2007 and was the last of a series of edgy, rocking hits from the Louisiana-born father of five. The then 45-year-old had pushed the limits of this genre with 'Swing,' but he returned to the land of believability with a track that fit his hip but still wise persona. One could say that this song brought to a close the second act of Trace Adkins' three-act (so far) career.

'Every Light in the House Is On'
From 'Dreamin' Out Loud' (1996)
The late Kent Robbins penned this song, No. 5 on our Top 10 Trace Adkins Songs list. It was the singer's first breakout hit, after his debut single reached only the Top 20 just months earlier. It also showed that behind his imposing figure was a man with a soft heart and a few scars. Critics heaped praise on this Adkins song, which included a video featuring a much skinnier country singer longing for a woman who leaves by train. Who leaves by train anymore?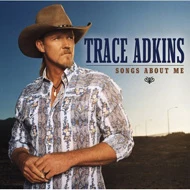 'Arlington'
From 'Songs About Me' (2005)
'Arlington' was on its way to becoming a Top 10 hit, maybe even a chart-topper, before families of U.S. men and women killed in combat voiced opposition, saying the poignant tribute to those who've given the ultimate sacrifice hit too close to home. It's certainly an understandable point of view, and not wanting to offend those people, Adkins decided to pull the song from country radio. Writers Jeremy Spillman and Dave Turnbull penned a brilliant first-person narrative about the tragic arc of a soldier, and many Adkins fans will argue it's the best performance of his career. A longer shelf life would certainly have moved it up a spot or two on this list of the Top 10 Trace Adkins Songs.
'Rough and Ready'
From 'Comin' On Strong' (2003)
This is Adkins' first single to go gold for 500K copies sold, mostly because it's just so much fun to listen to, but also because it featured Dale Earnhardt Jr. in the video. The second single from 'Comin' On Strong' foreshadowed the groovy, rocking hits that would soon follow. 'Rough and Ready' is a fan favorite at concerts, but it only reached No. 13 on the Billboard charts in 2004. Perhaps it was just a year or two ahead of its time.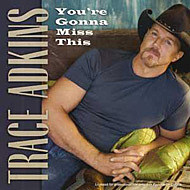 'You're Gonna Miss This'
From 'American Man: Greatest Hits Volume II' (2007)
The 2009 ACM Single of the Year is the most successful of the emotionally driven songs Adkins has alternated between since early in his career. Aside from a Top New Artist award, the win is the only time he's been recognized at major country awards shows, which is shameful given how unique and talented he is. As the father of five daughters, this type of circle of life song clearly resonated with the singer — but it was topped out by one song on our Top 10 Trace Adkins songs list.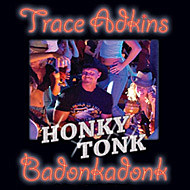 'Honky Tonk Badonkadonk'
From 'Songs About Me' (2005)
There is only one song on our Top 10 Trace Adkins Songs list that became a phenomenon. From the moment the 'Songs About Me' album was released, fans were clamoring to hear 'Honky Tonk Badonkadonk' on the radio. Men, women, kids, grandparents and everyone in between found themselves tapping a foot, shaking their hips or rocking the booty to this earworm. It's Adkins only platinum single, and the one fans most looking forward to hearing at concerts. The catch-22 is that even when he's 75 or 80-years-old, the big man will still have to play this song live. That will be a sight to behold.