Brad Paisley, 'River Bank' [Listen]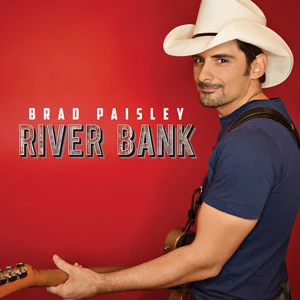 Brad Paisley delivers what his fans expect on 'River Bank,' a good-time country party laced with the singer's signature guitar work and (later) some thunderous drums. The song — the first from an upcoming new album — should slide naturally into his summer set list.
Lyrically Paisley and co-writer Kelley Lovelace play a guy looking for luck, but satisfied if he doesn't find it:
"Still, can you imagine if we ever struck it / I'd go shoot tequila, take a lime and suck it / And we'd tell our bosses they can do the same / We'll find a big cruise ship and buy the whole dang thing," he sings during the second verse of 'River Bank.'
The midtempo country-rocker is fun but not goofy. It's a feel-good summer song unlikely to make the year's Top 10, but likely to stick between the ears of millions of sun-loving country music fans.
"We got an inner tube / We got a trailer hitch / We're near the river and far from rich / But we have got each other and gas in the tank / We're laughing all the way to the river bank," Paisley adds at each chorus.
Clever rhymes stand out throughout 'River Bank.' Paisley and Lovelace are a sharp songwriting duo capable of crafting songs that pour out of the speakers, and they get it done here:
"We'd sail around the world and go to shore in a dingy / But 'til that dream comes true, why don't ya grab your bikini."
A high-profile performance at the 2014 ACM Awards in Las Vegas will introduce 'River Bank' to most fans. Paisley's formula for this song is similar to many of the uptempo cuts from 'Wheelhouse.' He finds unique ways to use effects and backing vocals, pushing his sound slightly without getting away from the staples: strong songwriting and a stronger Telecaster.
Why Fans Will Love It: 'River Bank' is typical Brad Paisley. It's a good-time summer jam that will elicit a few chuckles. Strong songwriting leaves a lasting impression.
Key Lyrics: "We got an inner tube / We got a trailer hitch / We're near the river and far from rich / But we have got each other and gas in the tank / We're laughing all the way to the river bank"
Did You Know?: Until recently, Paisley held the record for consecutive No. 1 singles with 10. Blake Shelton has topped him, notching his 11th with 'Doin' What She Likes.'
Listen to Brad Paisley, 'River Bank'
Subscribe to Taste of Country on