Daily Roundup: Eric Church, Blake Shelton + More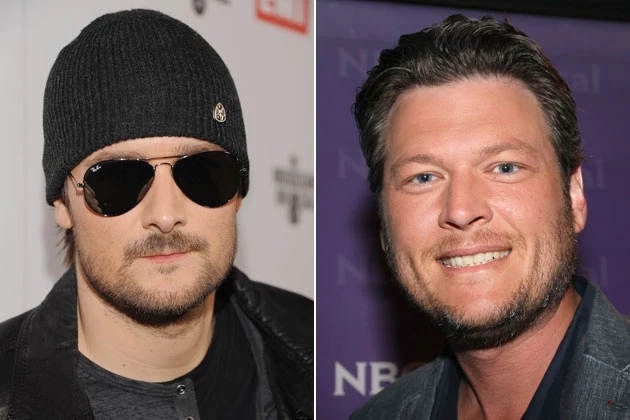 Country music's next big feud may have started, as Eric Church's comments about reality television and what some perceive as a slap to Blake Shelton have have left many fans taking sides. Read what the 'Springsteen' singer said and decide for yourself in today's Taste of Country Roundup. Also, be sure to check out our review of Shelton's new single, and find out the name of Jay DeMarcus's new baby boy by clicking the links below.
Every day we provide a recap of today's top country music news stories alongside a few others of interest from around the web. Today, check out rumors of a Whitney Houston affair with Michael Jackson.
Today on Taste of Country:
Eric Church Rips on Reality TV Shows, Baffles Blake Shelton
Blake Shelton, 'Over' – Song Review
Carter's Chord Singer Becky Robertson Weds in Tennessee
Eric Church vs. Luke Bryan – The Showdown
Can You Guess Whose Tattoo This is?
Eric Church Cancels Concert After Losing His Voice
Top Tweets of April 2012
Rascal Flatts' Jay DeMarcus Reveals Name of New Baby Boy
Miranda Lambert and Blake Shelton Perform 'Honey Bee' Together in California
Darius Rucker's Third-Annual Celebrity Golf Tournament Scheduled for June 4
Favorite Willie Nelson Song – Readers Poll
Brett Eldredge Hopes to Create Love Stories with 'Take Me Home Tonight' Dating Series
Martina McBride Begged to Play Smaller Venues
Chris Young Dishes on Touring With Miranda Lambert … and Her Dogs
Taste of Country Also Recommends:
Did Whitney Houston Have an Affair With Michael Jackson?
'Lost' Creator Hints the Show Could Return
No. 2: Led Zeppelin, 'Kashmir' – Top 100 Classic Rock Songs
Dog Fetches Ball, Returns With It to Find Soldier Master Back Home
Ben Folds Reveals New Ben Folds Five Album Details