Little Big Town, 'Better Man' [Listen]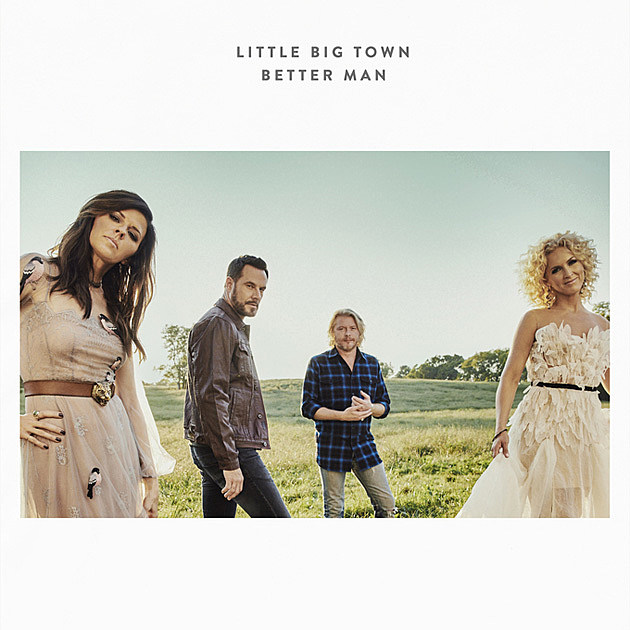 Little Big Town's new single "Better Man" is another that dives into the nuances of a well-used country theme. Lead vocalist Karen Fairchild is singing about abuse, but admitting there are times she misses the tenderness.
Much like the group did with "Girl Crush," Little Big Town force you to consider a new perspective with "Better Man," their first single from an upcoming album expected early in 2017. This song isn't as jarring as some of the quartet's most recent hits. In fact, the mistreatment of women is only vaguely alluded to — there's no one line that burns the hair off the back of your neck. Jay Joyce's arrangement is soft but not stark. It's among his more mainstream productions.
Still, it's clear Fairchild's protagonist is reeling from a love that went very, very wrong. She can recall the moments her man was sweet, loving and honest, however. Here's where "Better Man" separates itself from other songs about abuse or mistreatment. Typically it's a clear cut good vs. evil drama, but LBT have once again pushed us to consider a more well-rounded story arc. They're some of the best at creating characters, not caricatures.
Did You Know?: Country-pop world icon Taylor Swift wrote "Better Man" and sent it to Little Big Town! Swift says she's "really honored that a band I've loved for so many years decided to record this song I wrote."
Listen to Little Big Town, "Better Man" 
Subscribe to Taste of Country on
Little Big Town Share How They Got "Better Man" From Taylor
Subscribe to Taste of Country on
Little Big Town's "Better Man" Lyrics:
"I know I'm probably better off on my own / Than loving a man who didn't know what he had when he had it / And I see the permanent damage you did to me / Never again, I just wish I could forget when it was magic."
"I wish it wasn't 4 AM standing in the mirror / Saying to myself, you know you had to do it / I know the bravest thing I ever did was run."
Chorus:
"Sometimes in the middle of the night I can feel you again / But I just miss you and I just wish you were a better man / And I know why we had to say goodbye like the back of my hand / And I just miss you and I just wish you were a better man / A Better Man."
"I know I'm probably better off all alone / Than needing a man who could change his mind at any given minute / And it's always on your terms, I'm hanging on every careless word / Hoping it might turn sweet again like it was in the beginning."
"But your jealousy, I can hear it now / You're talking down to me like I'll always be around / You push my love away like it's some kind of loaded gun / Boy, you never thought I'd run."
"I hold onto this pride because these days it's all I have / And I gave you my best and we both know you can't say that / You can't say that / I wish you were a better man / I wonder what we would've become / If you were a better man / We might still be in love / If you were a better man / You would've been the one / If you were a better man."