ToC Critic's Pick: Thomas Rhett, 'Die a Happy Man' [Listen]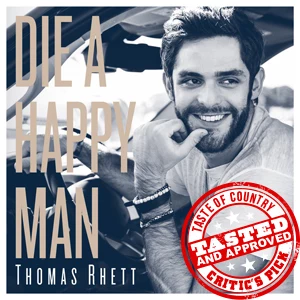 Thomas Rhett may have just released the love song of the year. "Die a Happy Man" is a slow burner that melts like candle wax. With just a few pulls from a blues-soaked guitar, the mood is set for this increasingly dynamic singer to heat up any room.
He wastes little time. Rhett's phrasing is spectacular during "Die a Happy Man," the second single from Tangled Up. He falls off notes like his wife is right there, teasing him from a few feet away. This level of honesty and vulnerability is rare.
"Baby last night, was hands down / One of the best nights / That I've had, no doubt / Between the bottle of wine and the look in your eye and the Marvin Gaye / Then we danced in the dark under September stars and the pouring rain / And I know that I can't ever tell you enough / That all I need in this life is your crazy love," Rhett sings to begin "Die a Happy Man."
Organ, steel guitar, acoustic and just a few brush strokes join Rhett and the electric guitarist who serves as sort of duet partner to the singer. They dance with and around each other, leaving plenty of room for the 25-year-old to tells his story.
"If I never get to see the Northern Lights / Or if I never get to see the Eiffel Tower at night / If all I got is your hand in my hand / Baby I could die a happy man."
"Die a Happy Man" is one of the signature songs from Tangled Up. It's a slower, more deliberate message that stands alone on a very funky album. It's the sort of song you drive around waiting to hear on the radio.
Key Lyrics: "If all I got is your hand in my hand / Baby I could die a happy man."
Did You Know?: Rhett's wife Lauren asked for a love song like Tim McGraw's "Just to See You Smile" about her. He delivered with "Die a Happy Man."
Listen to Thomas Rhett, "Die a Happy Man"
Subscribe to Taste of Country on
Thomas Rhett On How His Wife Influenced "Die a Happy Man"
Subscribe to Taste of Country on