Carrie Underwood's Best Dresses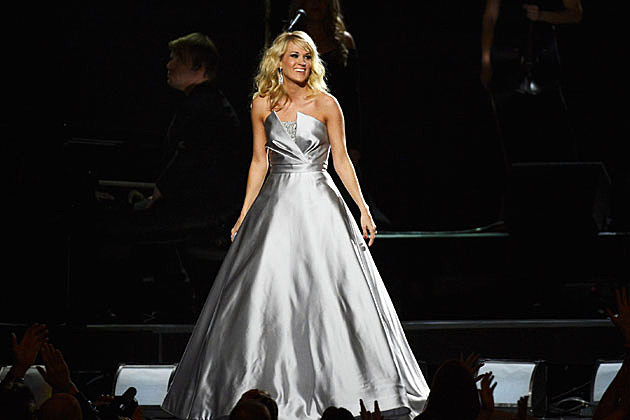 She's one of country music's best-dressed stars, but Carrie Underwood is also a fashion innovator. Many of the gowns found on this list of Carrie Underwood's Best Dresses would not be suitable for a stroll around town or even a formal, black-tie gala. More than one specializes in redonkulous, but for a performance at the CMAs or Grammy Awards, each was perfect. 
Two of the five dresses almost overshadowed the performance from the 'Blown Away' singer. Two others stole the show on red carpets, while another of Carrie Underwood's dresses made for one of the most dynamic album covers in recent years.
At the 2010 CMA Awards, Underwood showed a glimpse of dark side that would soon dominate her music. This dark gray, tiered gown reminds us of a certain character from a certain children's story. All she needs is a long cigarette holder and 101 adorable puppies. Underwood took a big risk with this dress, like she's done so often at awards shows. More often than not, that danger pays off for the superstar.
Larry Busacca, Getty Images
Blown Away
Cover of 'Blown Away' Album
Like many of the dresses in this list of Carrie Underwood's best dresses, this sleeveless gown came with a long train for the superstar to pull. The picture would make the cover of her 'Blown Away' album. We love the entire look, from the windblown hair and danger in her eyes, to the contrast of elegance and fury. A dress that reveals a peek at her famous legs is never a dud.
Arista Nashville
A Princess With Her Prince
2012 Billboard Music Awards
Carrie Underwood shined with this Oscar de la Renta gown at the 2012 Billboard Music Awards. It was elegant, yet light and airy for the spring season awards show. The flowing train gave the impression that she was floating along the red carpet as husband Mike Fisher held on tight, looking pretty good himself. Underwood's lavender gown was straight out of a fairy tale.
Frazer Harrison, Getty Images
The secret to Carrie Underwood's 2013 Grammy performance gown was a special material that allowed for images to be projected onto her while she played. The other secret: "I had to stand in the exact same place. I was actually barefoot on apple boxes," she reveals. She couldn't move during her performance, but with a dress that dances, why would she want to? This gown was worn on the same day she sported a $31 million necklace down the red carpet.
Kevork Djansezian, Getty Images
It's not often that rumors of a dress spark excitement for an awards show, but that's exactly what happened prior to the 2009 ACM Awards. During rehearsals, fans starting buzzing about this Rafael Cennamo-designed gown. It took 120 yards of fabric to make, and it features an eight-foot-long train. Underwood sang 'I Told You So' in the merlot monster before giving it back. Eventually it found it's way to the Country Music Hall of Fame, where it was part of Carrie Underwood: All-American Girl exhibit.
Ethan Miller, Getty Images