'The Voice' Coaches and Contestants Offer Marriage Advice to Blake Shelton and Miranda Lambert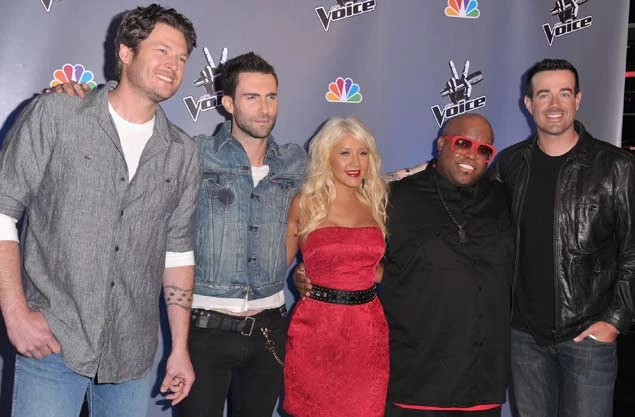 Blake Shelton, a coach on the ratings bonanza 'The Voice,' is tying the knot with fellow country singer Miranda Lambert today (though you may hear otherwise from Kix Brooks!) and Shelton's castmates and teammates from the show are offering their kind (and sarcastic) words and advice to the happy couple on their big day.
"Blake, even though you're a big smartass, I definitely wish you all the best with your marriage," fellow coach Christina Aguilera says. "I'm so excited for you and Miranda, and I really wish you guys the best of luck and a really happy life together." She also chimes in, "Good luck, Miranda. That's all I can say!"
Cee Lo Green says, "Congratulations on your engagement. I definitely wish you guys eternal bliss." He also joked that "she's definitely wearing the chaps" in the relationship. Oh Blake, how your fellow judges love to give you a little ribbing.
'The Voice' host Carson Daly acknowledges that most Hollywood marriages don't last, but he thinks Shelton and Lambert will defy those standards, saying, "I hope they can last! I hope they are happy and last forever," while Reba, who is Shelton's counsel on the show, is a little more serious, advising them to "stay happy, talk a lot."
Tyler Robinson, who was on Shelton's team for a hot minute before being eliminated last week, referenced the duo's height difference, saying, "Miranda, Blake is so tall and you are so little. It's just adorable."
"I think the best advice that I could give Blake is that he should do whatever she says," rocker Jared Blake, also on Shelton's team, offers. "That's probably good advice on the whole, but especially with any chick that comes out with a song called 'Gunpowder and Lead'!"
Watch 'The Voice' Cast Offer Their Good Tidings to Shelton and Lambert