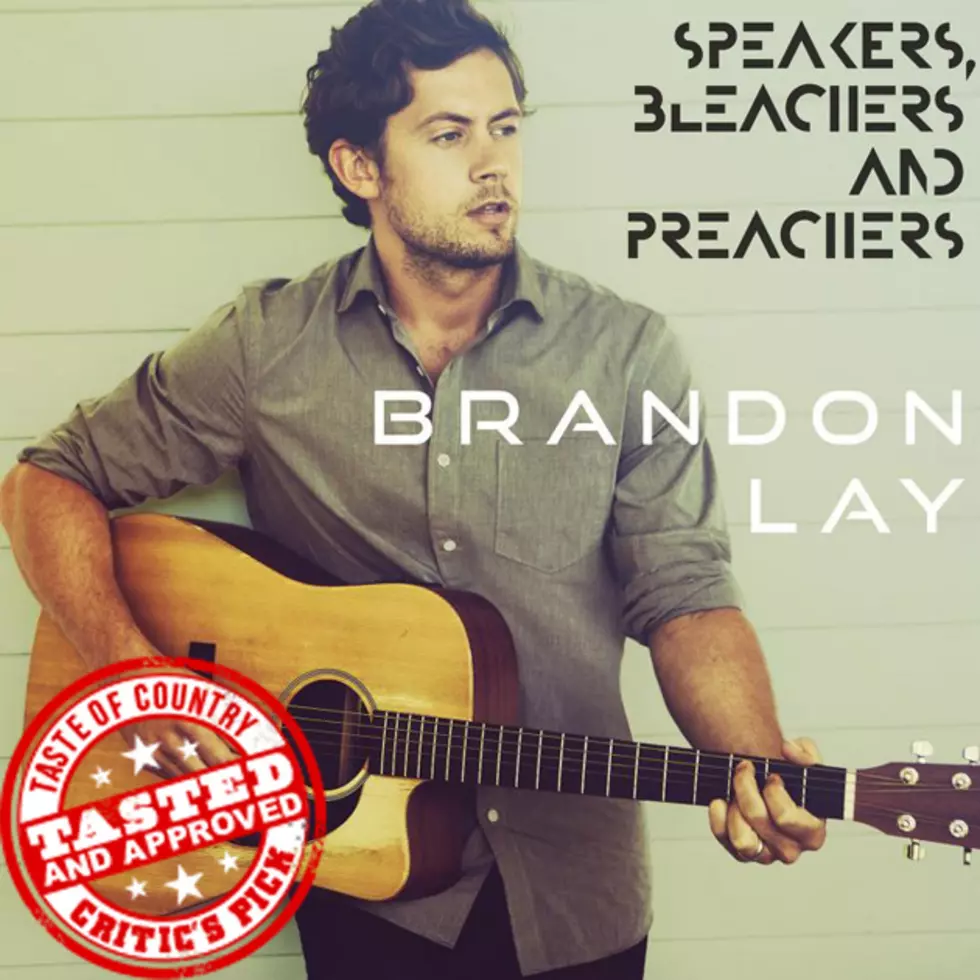 ToC Critic's Pick: Brandon Lay, 'Speakers, Bleachers and Preachers' [Listen]
EMI Nashville
Brandon Lay's awareness in that describing his raising, he's mirroring what most country fans have lived is what makes his debut single "Speakers, Bleachers and Preachers" extraordinary.
The country newcomer and Taste of Country RISERS pick gets specific with references to his hometown, Baptist upbringing and appreciation for a more aggressive form of boom-boom. There's enough detail that anyone can find themselves in the lyrics. If you've loved and lost in high school, believed Friday night football was more important than air or water, or hid something from your father, you've lived "Speakers, Bleachers and Preachers."
Lay's understated delivery is an open-ended invitation to fall for this country singalong. Light electric guitar licks aid a heavy rhythm section in filling out this mostly-acoustic cut. The Jackson, Tenn., native will very quickly establish a sound all his own.
Did You Know?: One of Brandon Lay's first musical idols was Elvis Presley.
Listen to Brandon Lay, "Speakers, Bleachers and Preachers" 
More from Brandon Lay! Check Out "Back on the Wagon"
Brandon Lay's "Speakers, Bleachers and Preachers" Lyrics:
You had a bluejean jacket, varsity / Said you wanna go somewhere fast with me / I picked you up, yeah / And we turned it up / You had a broke heart necklace, post-game smile / J-town front page news for awhile / Then we broke up, but I still turned it up. 
Cheerleading skirts and backseats / Free throws and church marquees / Kingsley countdown radio / Wouldn't know nothing if it weren't for all those ... 
Chorus:
Long nights, glory days / Between the Alpines and old King James / The better they look the sweeter they kiss / The shot you don't take, the shot you don't miss / The faster the car the more money you burn / You laugh, you love, you learn there's a lot to learn from speakers and bleachers and preachers / Story of my youth / Speakers and bleachers and preachers / Still got a lot of growing up to do.
Kroger parking lot, battle scars / Black and mild on the dash under the stars / If daddy asks they ain't mine / 82 degrees on the bank sign / And hey, hey summer jams / Any Chesney song gonna make her dance / When the sun goes down, I think about her now.
Subs from my system rattling my rearview, used to listen with my cousin I miss, he's gone now / It was the national anthem and a knee-down prayer we were acting like we weren't just like every other small town.
See the Top 10 Songs of 2017 (So Far)
More From Taste of Country