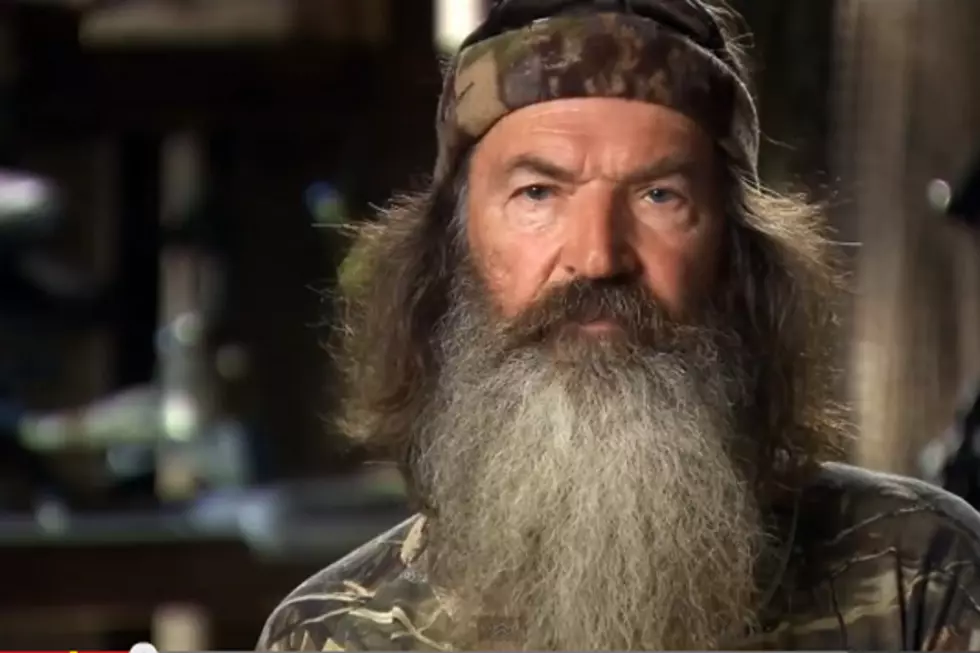 'Duck Dynasty' Star Phil Robertson Sparks Controversy With Remarks on Gays, African Americans
YouTube
Phil Robertson -- 67-year-old patriarch of the Duck Commander empire and star of A&E's 'Duck Dynasty' -- held nothing back in talking about what he calls the illogical sin of homosexuality. Fans of the show know that the Robertsons are conservative Christians, but no one from the family has addressed specific topics during the reality show.
"We're Bible-thumpers who just happened to end up on television," Robertson tells GQ in an article from the January edition, made available online. He'll likely find few country fans who disagree when he says that the human race would be better off if everyone loved God.
But his comments on homosexuality are more divisive.
"Start with homosexual behavior and just morph out from there," he responds when reporter Drew Magary asks what is sinful. "Bestiality, sleeping around with this woman and that woman and that woman and those men."
"Don't be deceived," Robertson adds, quoting Corinthians. "Neither the adulterers, the idolaters, the male prostitutes, the homosexual offenders, the greedy, the drunkards, the slanderers, the swindlers -- they won't inherit the kingdom of God."
Younger son Jep Robertson says the rest of the family falls in line with Phil's beliefs, although they're not quite as outspoken about them. Elsewhere in the article, the older Robertson says he find homosexuality to be illogical.
"It seems like, to me, a vagina -- as a man -- would be more desirable than a man's anus. That's just me," Phil Robertson says. "I'm just thinking: There's more there! She's got more to offer. I mean, come on, dudes! You know what I'm saying? But hey, sin: It's not logical, my man. It's just not logical."
Perhaps more surprising is Robertson's comments on the plight of African Americans during the time of Jim Crow laws. Growing up in Louisiana, the reality star says he never saw "the mistreatment of any black person."
"Not once. Where we lived was all farmers. The blacks worked for the farmers. I hoed cotton with them," Robertson shares. "I'm with the blacks, because we're white trash. We're going across the field … They're singing and happy. I never heard one of them, one black person, say, 'I tell you what: These doggone white people' -- not a word!"
He adds, "Pre-entitlement, pre-welfare, you say: Were they happy? They were godly; they were happy; no one was singing the blues."
The Huffington Post obtained a statement from Robertson via A&E in response to the controversy. He says his mission today is to go forth and tell people why he follows Christ and what the Bible teaches, "and part of that teaching is that women and men are meant to be together."
"However, I would never treat anyone with disrespect just because they are different from me," he adds. "We are all created by the Almighty and like Him, I love all of humanity. We would all be better off if we loved God and loved each other."
This sentiment also shows up in the GQ interview toward the end, when Robertson asks the reporter if he and his wife are "Bible people."
Robertson also shares his opinion on health insurance and why he voted for Mitt Romney in 2012 in the lengthy feature. The family and the show are favorites among country fans and stars. Scotty McCreery has visited their compound. Darius Rucker casted them in his video for 'Wagon Wheel.' Luke Bryan and George Strait made cameos on the new 'A Robertson Family Christmas' Christmas album, which topped the charts. In November, members of the family even appeared at the 2013 CMA Awards.
More From Taste of Country