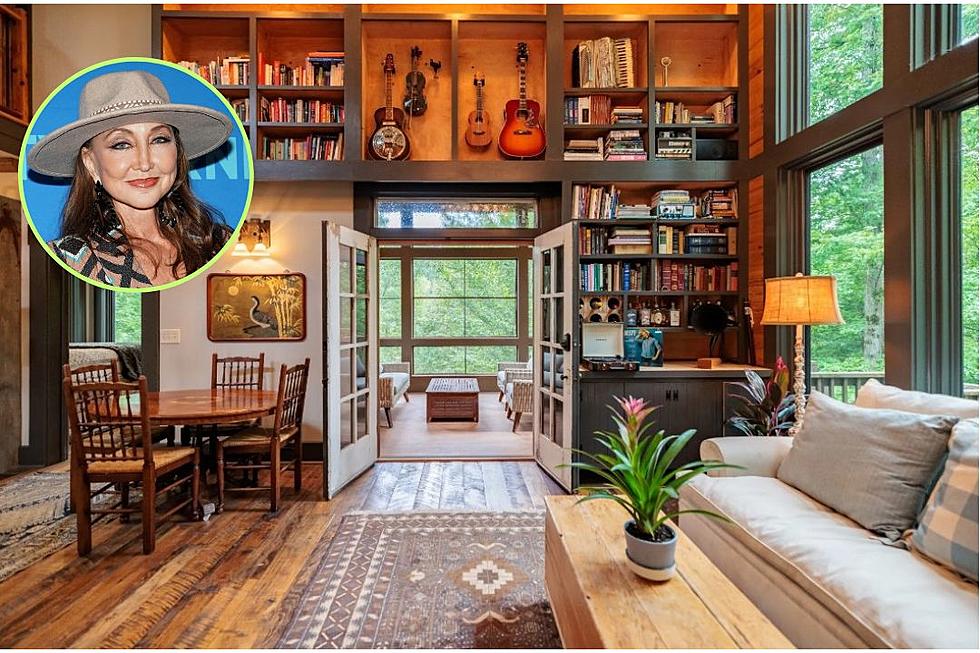 Pam Tillis Sells Deluxe $3.5 Million Tennessee Cabin — See Inside! [Pictures]
Realtor.com/Erika Goldring, Getty Images
Pam Tillis is set to turn a big profit on her charming Tennessee cabin. The country veteran has found a buyer for the small, but luxurious home, which is listed for $3.5 million — more than 10 times the amount she originally paid.
The "Maybe It Was Memphis" singer first purchased the bare 70-acre property in 2012 for $301,239. Tillis then built the 884-square-foot home, which features one bedroom and one bathroom, in 2015.
The two-story property — listed with Covey Rise Properties' agent Tom Sullivan — features an open and inviting living room complete with high ceilings, a stunning industrial chandelier and a large stone fireplace with a stone mantel. An enclosed porch sits just off the common area, with an abundance of natural light and plenty of views of the property.
Rustic wood floors that appear to be made of old barn wood cover the floors of the house, making for the perfect combination of old and new design. Keeping with that theme, the upstairs bedroom features a weathered door and a vintage rotary wall phone.
Nestled in Williamson County outside of Nashville, the cabin sits on the banks of Younger Creek. The property features plenty of serenity along the creek bank and wooded areas. In addition to the cabin Tillis built, there is a barn and storage unit on the land.
The home is currently under contingency, and it's unclear whether the property will sell at full asking price. Tillis has yet to comment on the sale.
PICTURES: See Inside Pam Tillis' Spectacular $3.5 Million Tennessee Cabin
Pam Tillis has just sold her deluxe Tennessee cabin, and she stands to make a pretty penny from the spectacular property.
Gallery Credit: Jess
PICTURES: See Inside Thomas Rhett's $4.7 Million Rural Paradise
When
Thomas Rhett
and his wife,
Lauren Akins
, want to get away from it all, they sure have plenty of space and privacy. The couple and their kids can relax and unwind as much as they'd like at their rural weekend retreat outside of Nashville, which features an amazing barn-themed house that is a perfect home away from home.
Gallery Credit: Sterling Whitaker
PICTURES: See Inside Miranda Lambert's Rural Tennessee Estate
Miranda Lambert paid $3.4 million in 2016 for her rural estate an hour south of Nashville, which comprises 400 acres of lush green farmland. The property includes rolling hills, rustic living spaces and an enormous horse barn, as well as three residences, a lake with a boathouse and a six-bay garage. There are 75 acres of fenced-in pastureland, as well as lighted walking trails that wind through the woods leading to a pavilion, with seating for 60 for private concerts.
Gallery Credit: Sterling Whitaker
PICTURES: See Inside Willie Nelson's Historic $2.5 Million Rural Retreat
Willie Nelson
's former home in Nashville is on the market for $2.5 million, and pictures show a splendid rural retreat that's a true piece of country music history.
Nelson's 3-bedroom, 1-bathroom hand-built log cabin, which the country music icon built for himself, sits on 150 rolling rural acres in Goodlettsville, Tenn., just half an hour outside of Nashville. The land surrounding the cabin offers a breathtaking slice of unspoiled Tennessee and ensures maximum quiet and privacy.
Gallery Credit: Sterling Whitaker
PICTURES: See Inside Naomi Judd's Elegant Rural Estate
Naomi Judd's rural estate has come up for rent, and it's a home fit for a member of the Country Music Hall of Fame.
Gallery Credit: Sterling Whitaker
More From Taste of Country