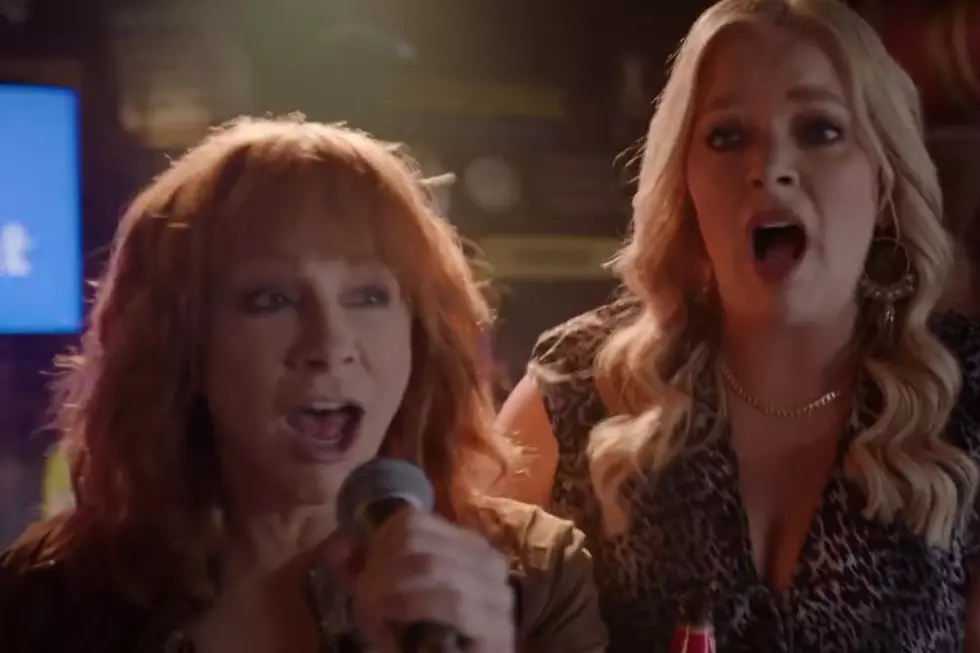 Reba McEntire + Melissa Peterman Pick a Judds Hit for Karaoke Night in 'The Hammer' [Watch]
Lifetime/Twitter
Reba McEntire's new film, The Hammer, is officially out on Lifetime now, but it's more than just a movie: It's also a reunion between the country star and Melissa Peterman, who co-starred on the McEntire-led mid-2000s sitcom, Reba.
And like any good reunion between two old friends, The Hammer includes a girls' night out.
In one scene, McEntire — who plays the outdoorsy, firebrand traveling circuit judge Kim Wanker — and Peterman — who plays her sister Kris — hit the town for a night of karaoke and drinks. Their song of choice? "Girls Night Out," which was a No. 1 hit for legendary country duo the Judds in 1985.
A clip from the scene shows McEntire and Peterman onstage with a couple of friends as a dive bar full of patrons clap along to their performance. One of those watching from the sidelines should be a familiar face to McEntire's fanbase: Rex Linn, a co-star in The Hammer and McEntire's real-life boyfriend, tips his hat to her from the bar as she sings.
The Hammer premiered on Lifetime on Jan. 7. It's one of two current onscreen pursuits for McEntire, who is also a central character in the new season of ABC's Big Sky: Deadly Trails. In that show, McEntire also stars alongside Linn: The couple play a husband-and-wife duo who run a backpacking company in rural Montana.
Linn, a veteran actor who started dating the country legend in 2020, previously told TV Insider that he's beyond impressed by his girlfriend's acting skills, and the two always have fun together on set.
"Every scene was fun for me because I was working with her, and I mean that," he gushed. "We'll wink at each other in the middle of a scene."
See What the Cast of Reba Looks Like Now:
See Reba McEntire Pictures, Through the Years
See pictures from Reba McEntire's life and career, through the years. So many memories. So many hairstyles.
More From Taste of Country